Considering a destination wedding in Prague?
Destination Wedding in Europe
As many of you might know, I decided to move back to my home country in Europe after 10 years of living in the US. A few of my friends, also wedding photographers, decided to do the same, but they moved to Paris. As a destination wedding photographer, I'm now based very close to Prague. Therefore, I would like to introduce Prague to you closer as an option for your destination wedding or proposal.
I have traveled to 246 cities in 46 countries worldwide, and Prague is in my Top 3 destinations I visited. It is a breathtaking city full of history and beautiful architecture on every step you take through it.
Prague or Paris?
Prague is missing Eiffel Tower, but instead, it has Charles Bridge, which I think is even more magical. You can easily compare the lovely streets of Paris to the charming streets of Prag's Malá Strana. 
I have spoken to many people and some of them like Paris more, while for the others, Prague feels better. They used to say that Prague is something like Paris, just with a lovelier twist. Many say that Prague is "Paris 2".
Prague and Judaism
I know that most of my clients from the US are Jewish, so for your decision about Destination Wedding in Prague might be the following information essential.
The history of the Jews in Prague is one of the oldest and most well-known. Prague boasts one oldest recorded Jewish communities in Europe, first mentioned in 965. Since then, the community has never ceased to exist.
The Old Jewish Cemetery in Prague is one of the oldest Jewish cemeteries in Europe (opened in 1439 and closed in 1787). The cemetery is located between the Pinkas Synagogue and the Klausen Synagogue. Prague boasts Six synagogues, a Jewish Town Hall, and the unique genius loci, making Josefov in Prague a place you should certainly not leave out when wandering around the "Golden City".
Venues and hotels in Prague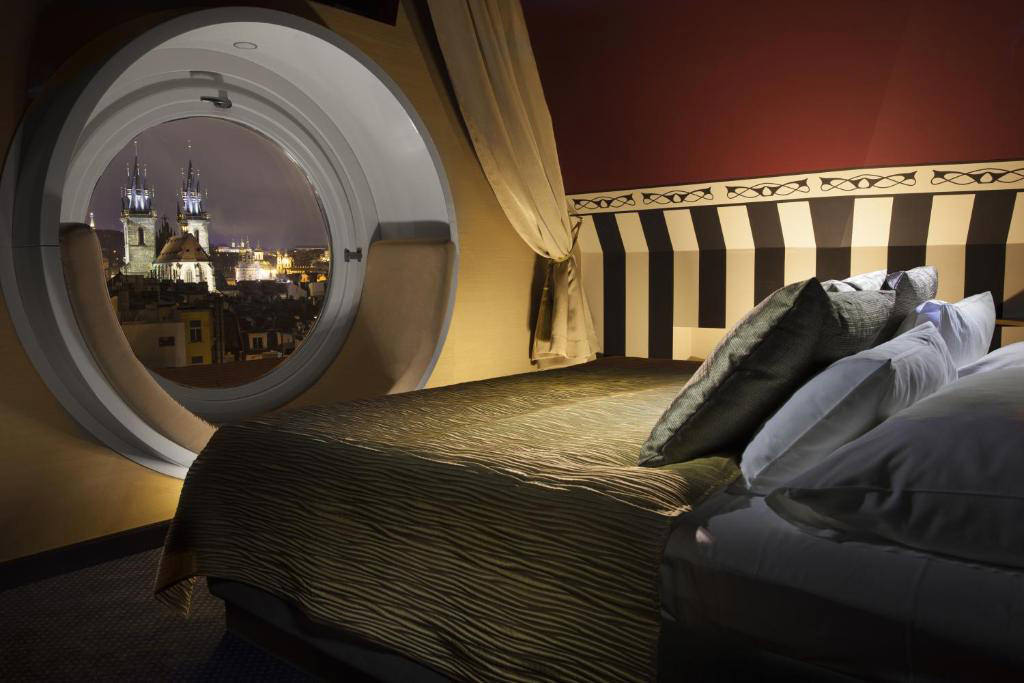 If you still prefer Paris, you also can have both. There is a train as well as many flights from Paris to Prague, or you can stay in the exquisite hotel Paris in Prague. I can also recommend a hotel from the Alchymist group owned by my friend Giorgio. His Alchemist Grand was ranked 10th in the Top 25 most luxurious hotels in Europe and 19th among the most luxurious hotels globally.
Category: 25 most luxurious hotels in the world
1. Shangri-La Hotel, Tokyo, Japan
2. Hotel Imperial Vienna, Vienna, Austria
3. Hotel Palacio de la Magdalena, Soto del Barco, Spain
4. La Casa del Rector, Almagro, Spain
5. The Grand Del Mar, San Diego, California
6. Antuquelen Hosteria Patagonica, Villa La Angostura, Argentina
7. The Ritz-Carlton Osaka, Osaka, Japan
8. The Dorchester, London, United Kingdom
9. Rockliffe Hall, Hurworth-on-Tees, UK
10. The St. Regis Bali Resort, Nusa Dua, Indonesia
…
19. Alchymist Grand Hotel & Spa, Prague, Czech Republic
Source:TripAdvisor.com
Prague is one of the most favorite travel destinations around Europe. It offers over 40.000 hotel rooms to accommodate you, which is almost the same amount as Paris and twice as much as Vienna offers. Prague is also considerably safer than Paris.
Destination Wedding in Prague
I can also recommend you an excellent trip around Europe. Visiting Paris or Prague is a fantastic start before traveling to Venice and continuing to Slovenia and Croatia. Feel free to ask me whatever you want to know about traveling through Europe.
Let's have a chat and set up your Destination Wedding in Prague or proposal in Europe. I'll be updating this blog post as I will be adding more pictures thorough the time and more details about wedding venues or proposal locations. I also will include excellent wedding planners that I like to collab with.
Let me know any thoughts in the comments below.
So, if you are considering a destination wedding in central Europe, then a wedding in Prague is definitely a top option. And I'm here!
Destination Wedding Photographer
Facebook | Instagram | Pinterest
inquire@freirephotography.com