Ashley and Will's Rosecliff Mansion Wedding
How do I start? … wow, what a dream wedding. My second Rosecliff Mansion wedding. Rosecliff Mansion in Newport, Rhode Island is probably my favorite venue in the US yet.
Ashley found me on Instagram through pictures from my other Rosecliff wedding I shot almost two years ago. Since then Rosecliff was my favorite wedding venue and I was so happy when Ashley bookend me. She contacted me even before the date was set!
So, I knew this one would be an amazing one, and I had something to look forward to for a year. I also knew that I want to stay in Newport for a few days. It's a phenomenal city, reminding me of Europe.
We decided with Ashley that we will meet a day before their wedding for a pre-wedding session, instead of an engagement session, as this was a destination wedding. The weather wasn't best, but we created some cool pictures on the beach in the rain.
The day of the wedding went smooth and the weather was excellent. Which was almost a miracle, as the weather weeks before the wedding wasn't nice and it was cloudy and rainy right another day.
Getting ready at two different hotels, then finally meetup at Rosecliff. Ashley purchaised fabulous Galia Lahav bridal corset dress. I also loved her bouquet.
We had a lot of fun before the ceremony with both ladies and gentlemen. I hope you can see that on our pictures. Ceremony was on the oceanside and we enjoyed fabulous sunset. It was so beautiful that we decided to jump into limo and we went to Ocean Drive to take few real sunset pictures. And that was so worthy.
The rest of the night was just a funny part. A lot of bubbles, gorgeous wedding cake, amazing food and company of best friends and famileis. Cigars with guys was like hapy ending at the end of the night. What could we possible with more?
wedding planner: Leila Ryan Events
wedding venue: Rosecliff Mansion
wedding cake: Wingate Cakes
bridal gown: Galia Lahav
bride's shoes: Rene Caovilla
bride's jewelry: Tiffany & Co from NY Flagship
bridal makeup: Erica Wright with Glam Done Wright
bridal hair: Mallori Rose of The Best of You
groom's tux: BOSS
groom's shoes: Salvatore Ferragamo
catering: Blackstone Caterers
florist: Robbin Hollow Farm
videography: Veiled in Motion
music: Murray Hill Talent
limo: A Formal Limo
Invitations: all stationery for the entire wedding was handmade by the bride.
And here are the pictures. Let me know how do you like this Rosecliff Mansion wedding and in case you just got engaged and looking for the venue and photographer, take this is an inspiration.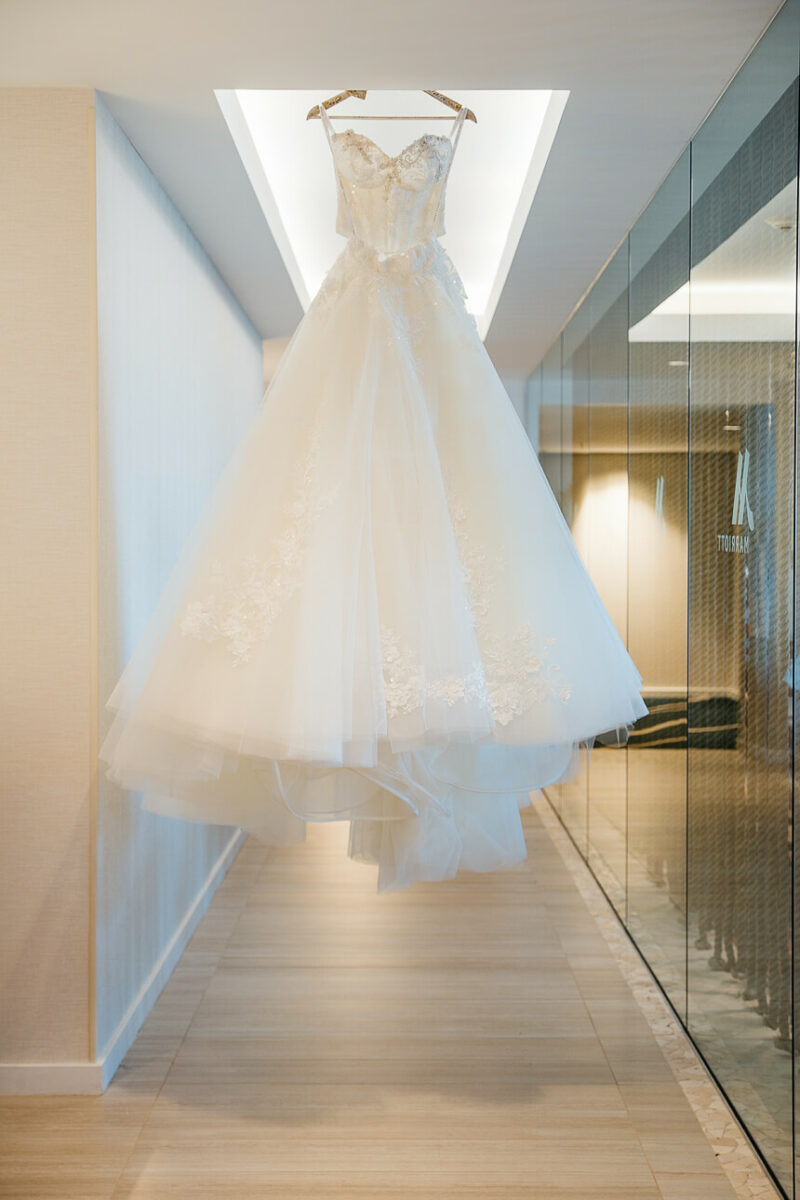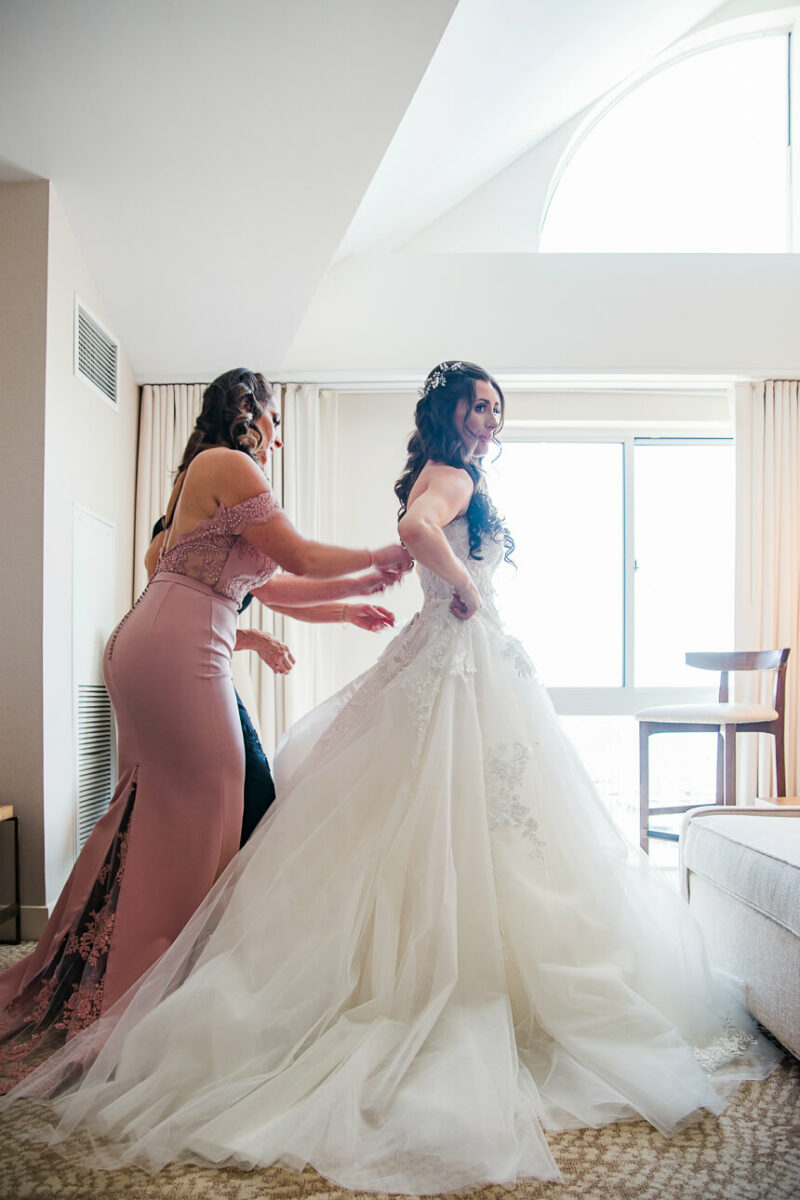 This was a destination wedding. We live in DC, and our friends and family are from all over the country. Immediately before our rehearsal dinner on Friday, Will and I shot with Jan at The Chanler at Cliff Walk Hotel and Easton's Beach. It was grey and dreary outside, which made for some really dramatic, beautiful photos!

Ashley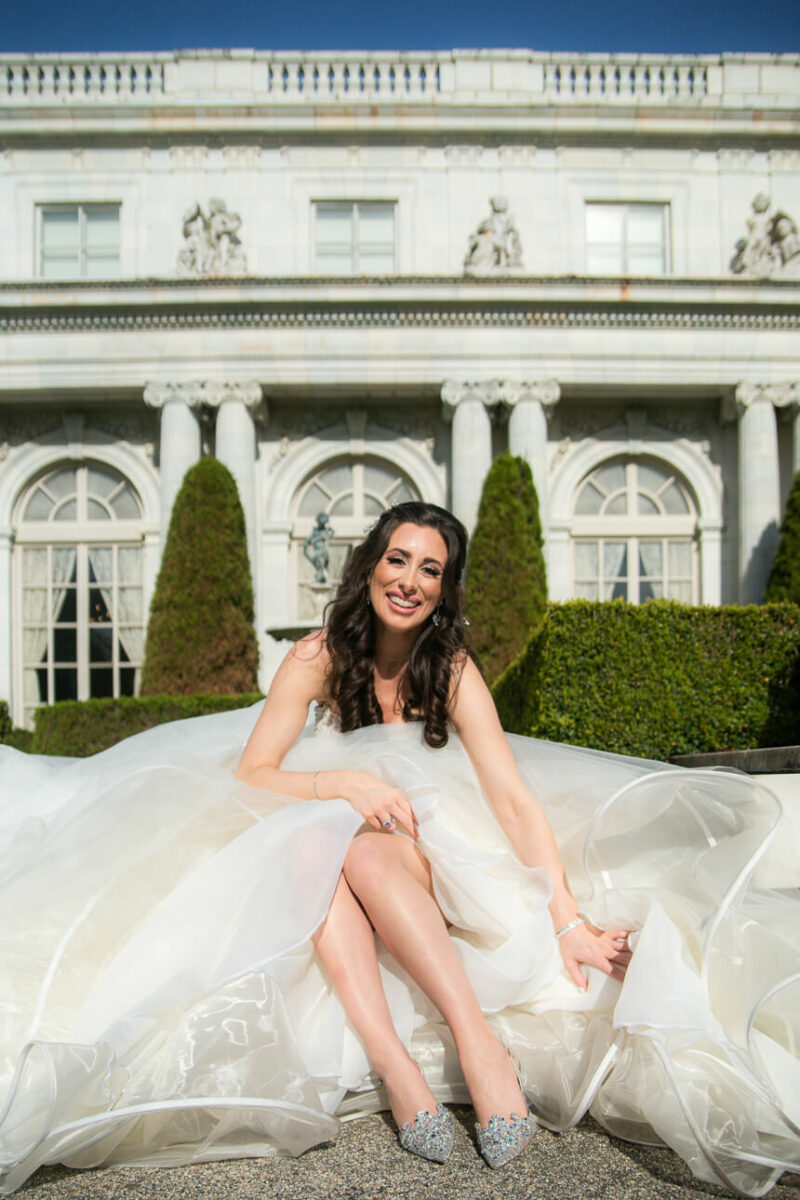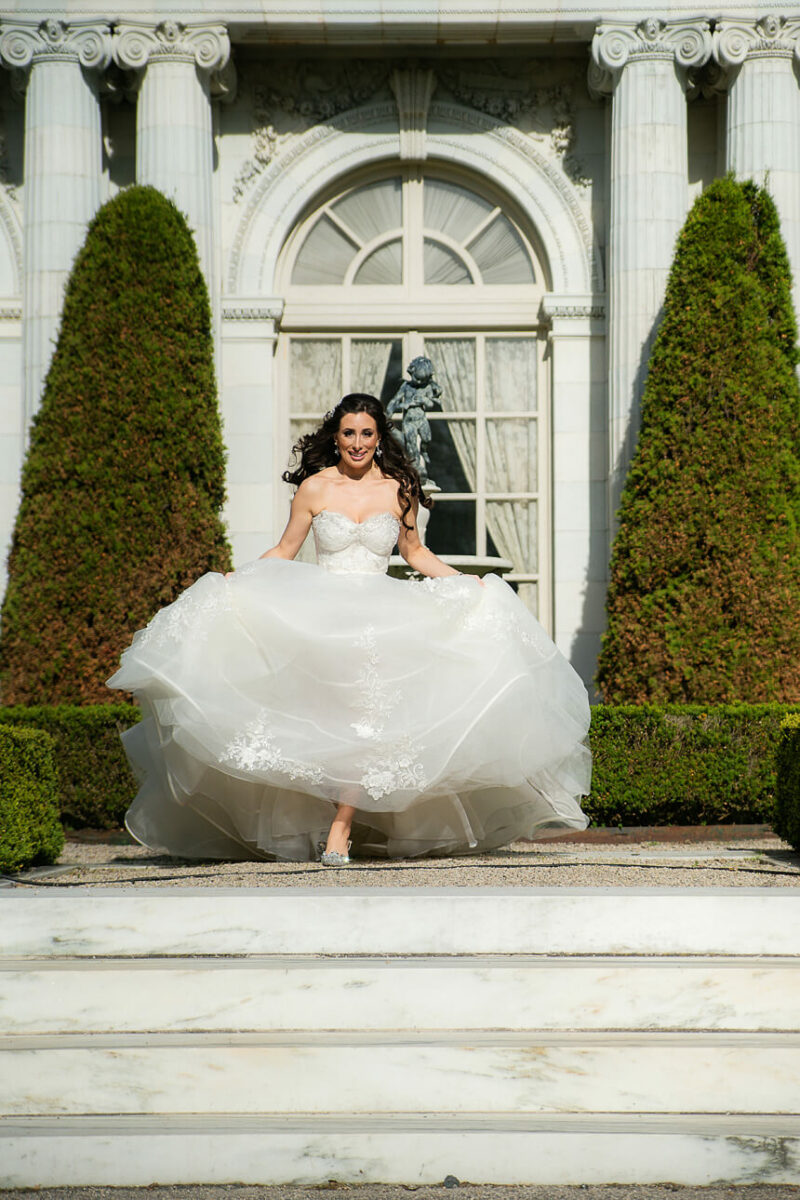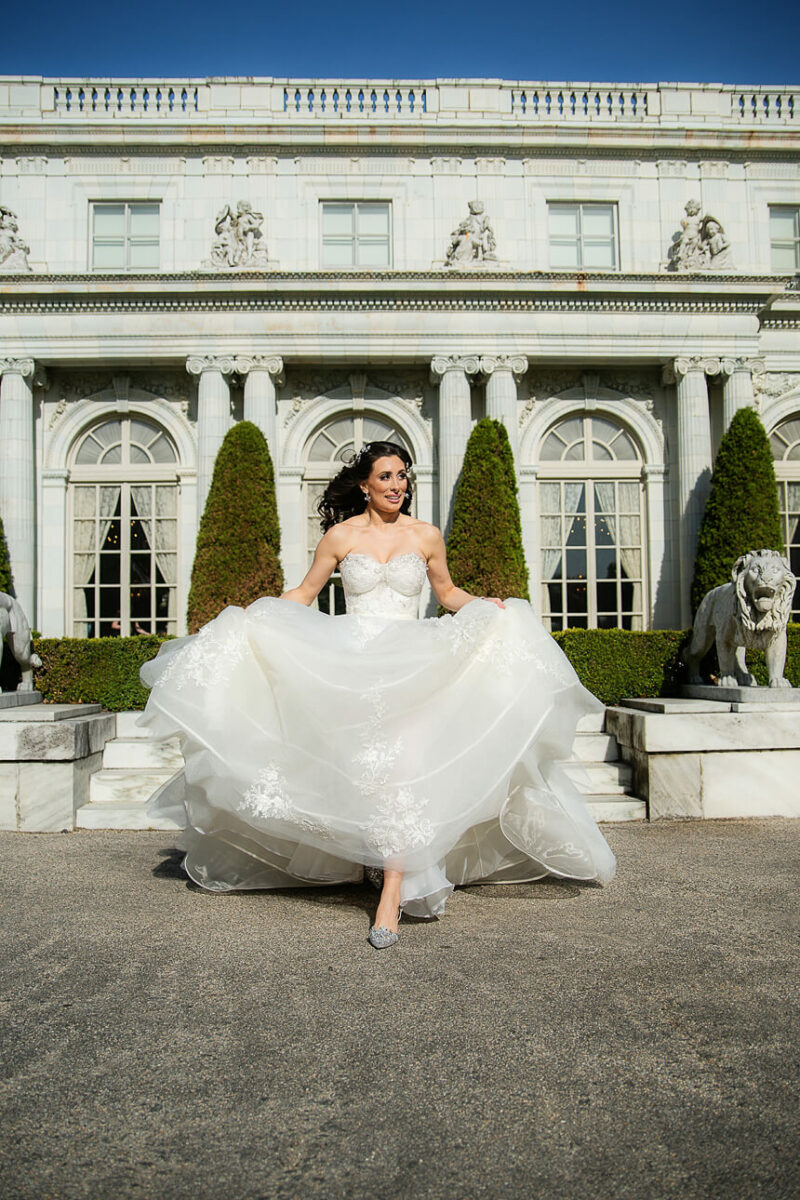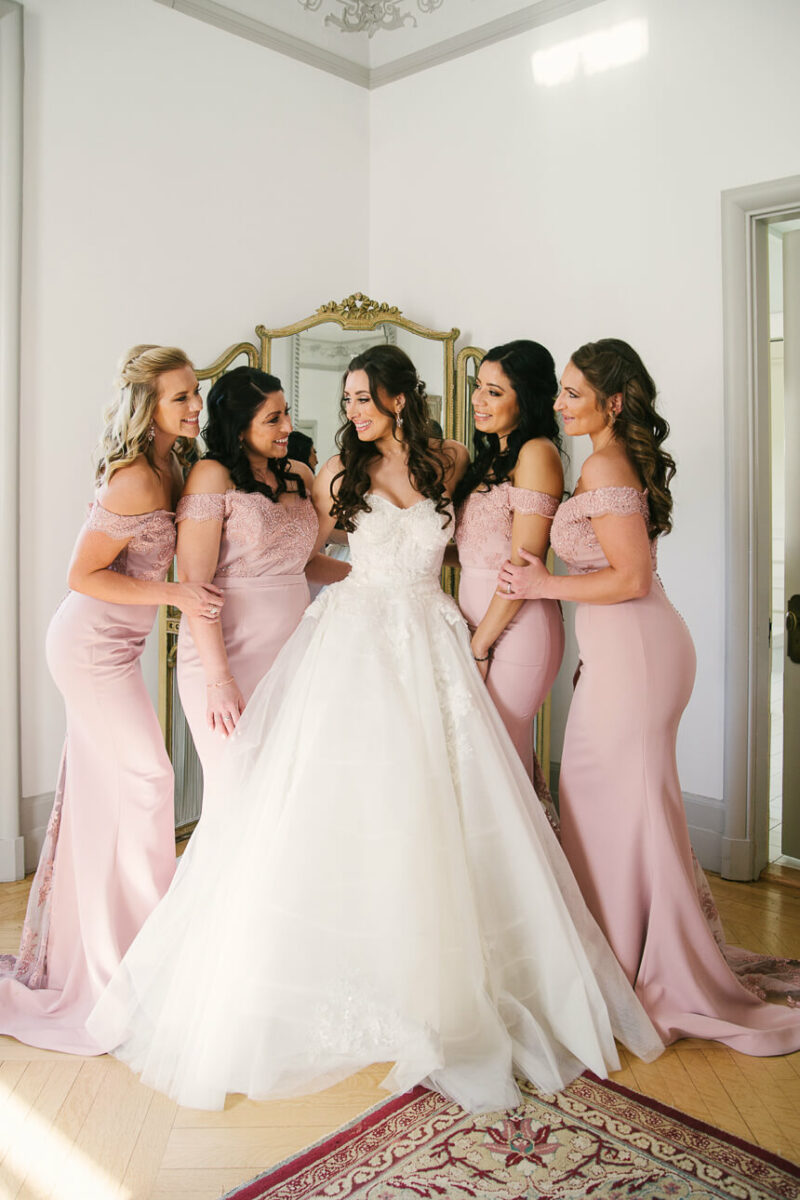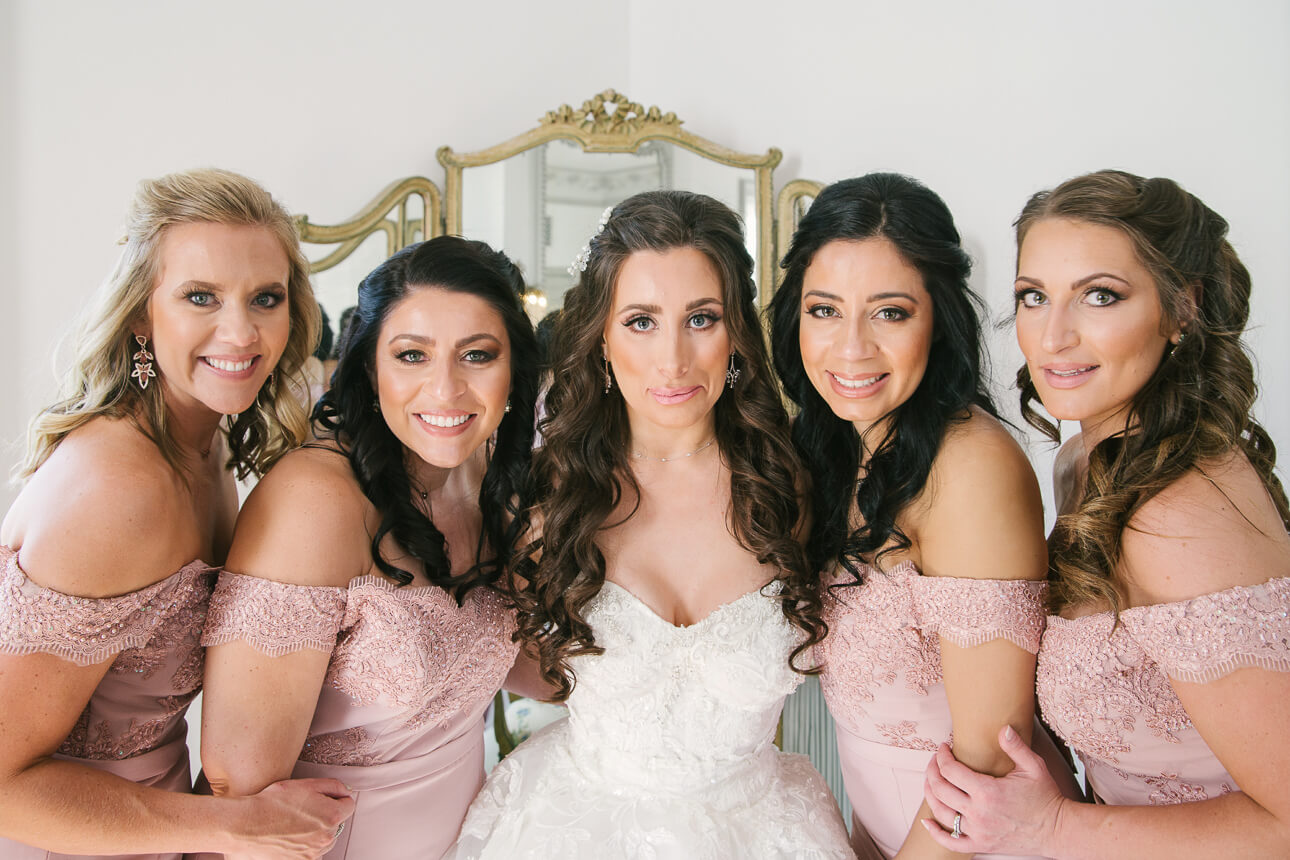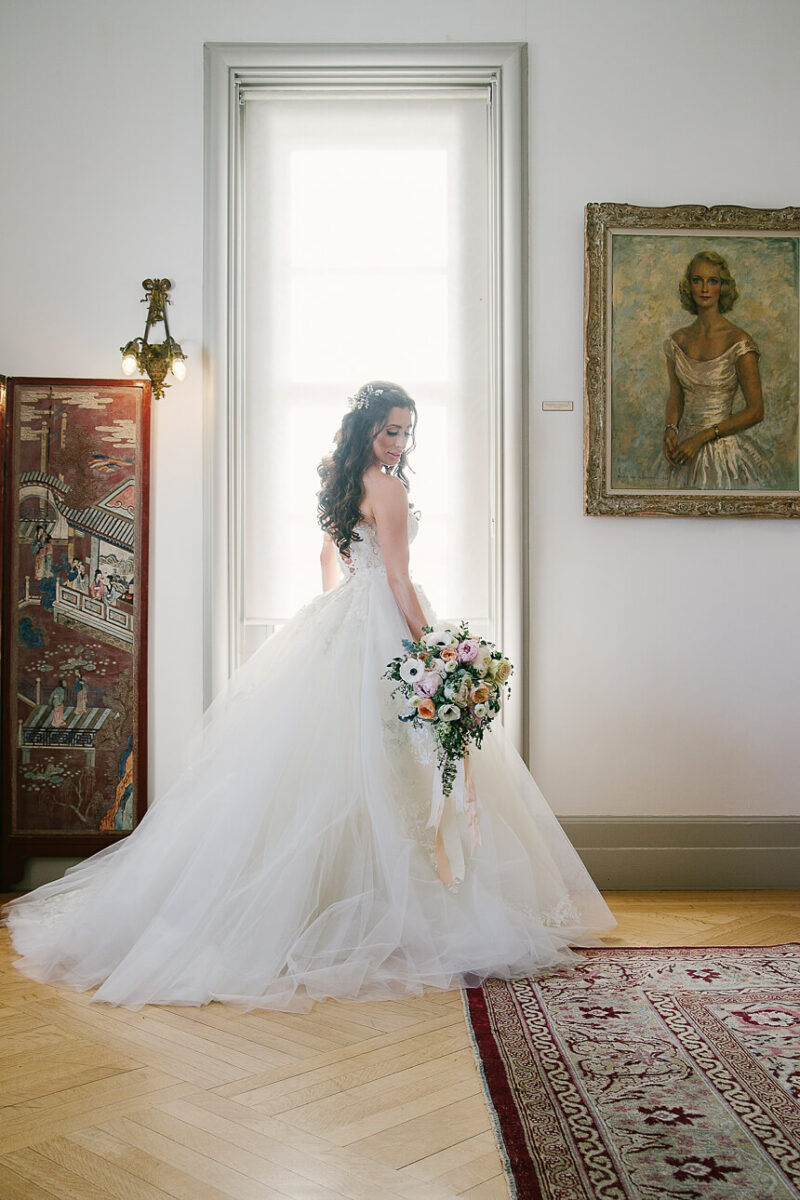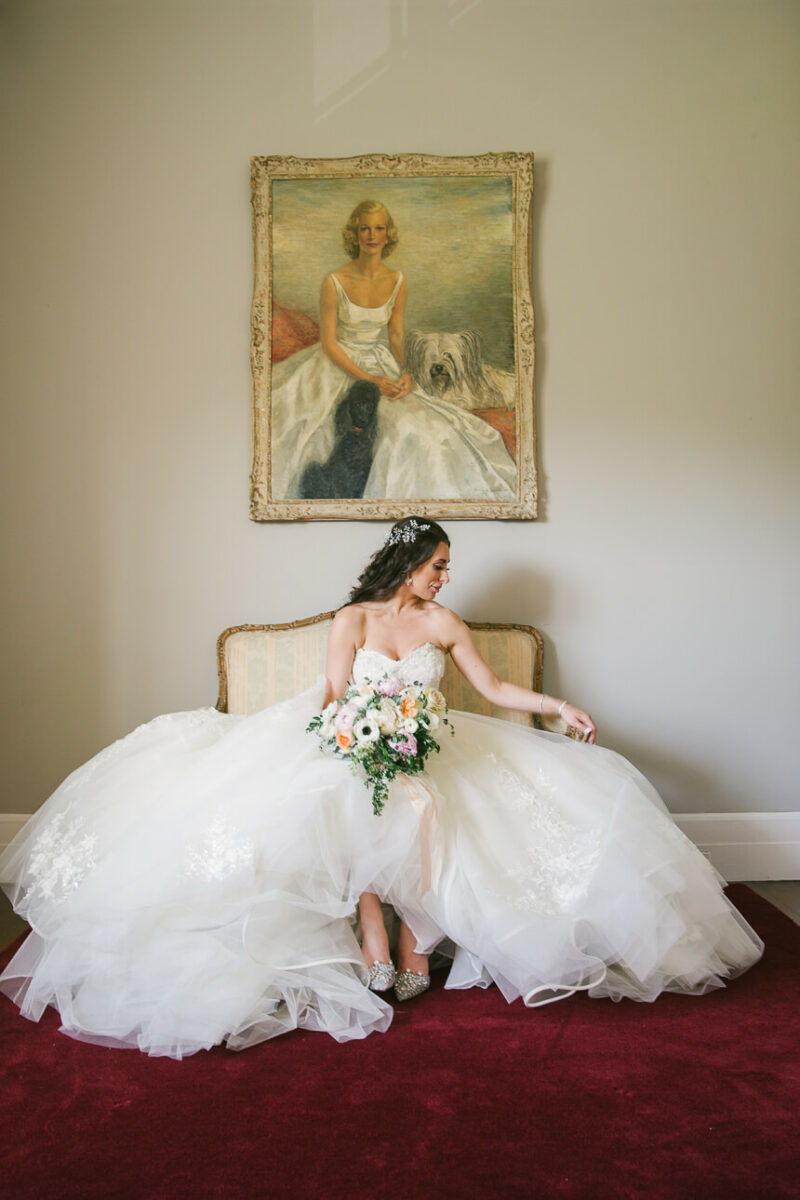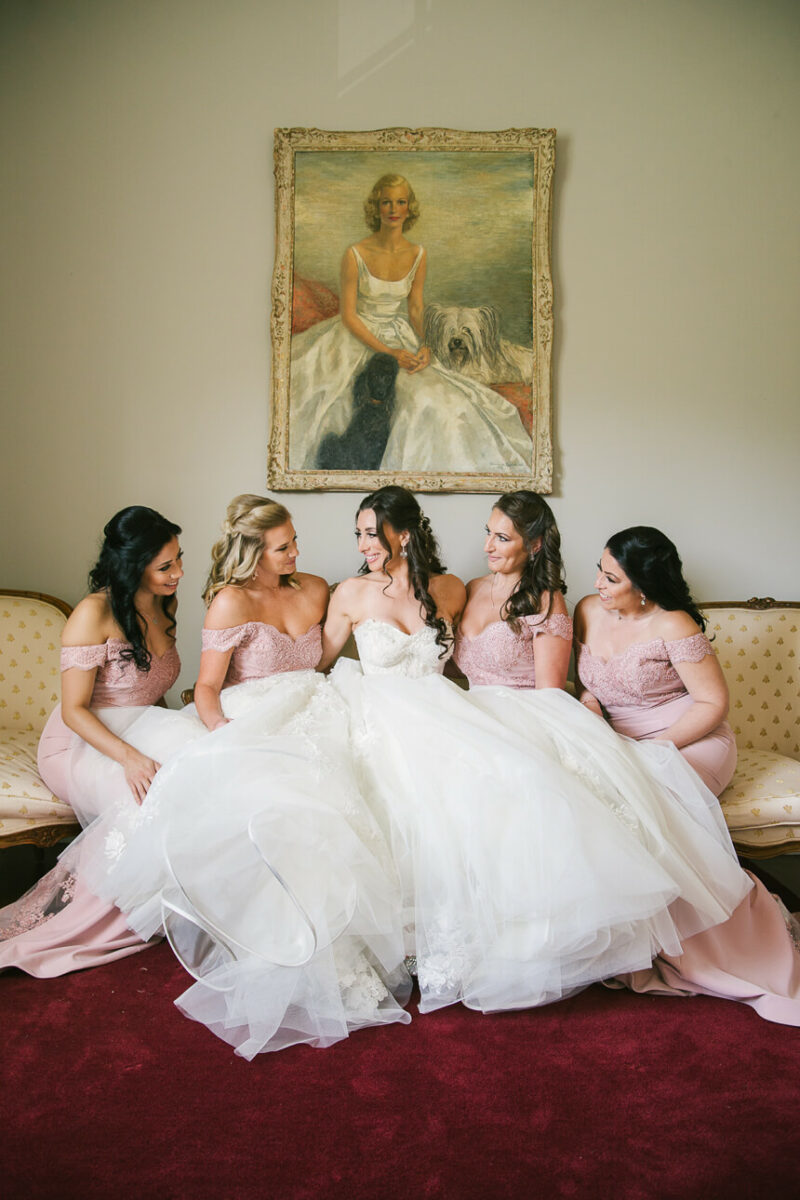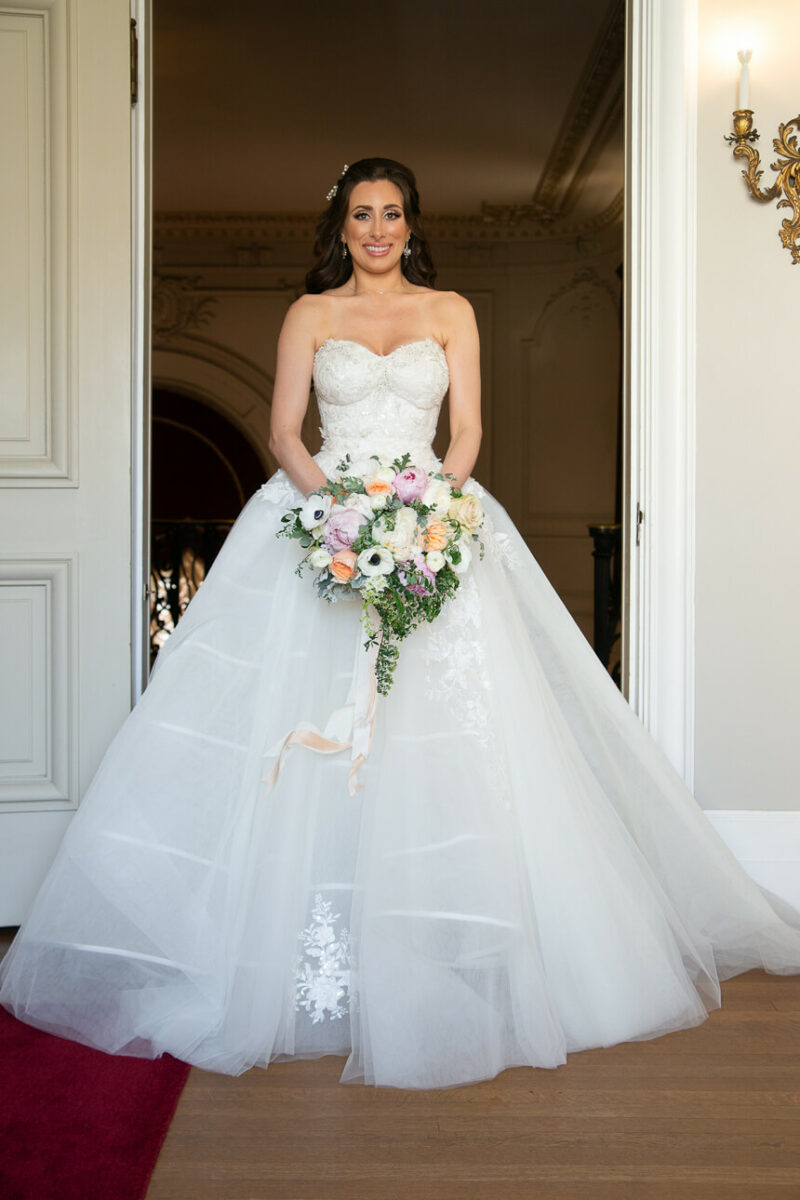 We wanted our guests to have an immersive experience and really get to appreciate every part of the property. We had an etherial, romantic, fairytale theme – we wanted the whole day to feel like a dream for our guests (and for us)!

Ashley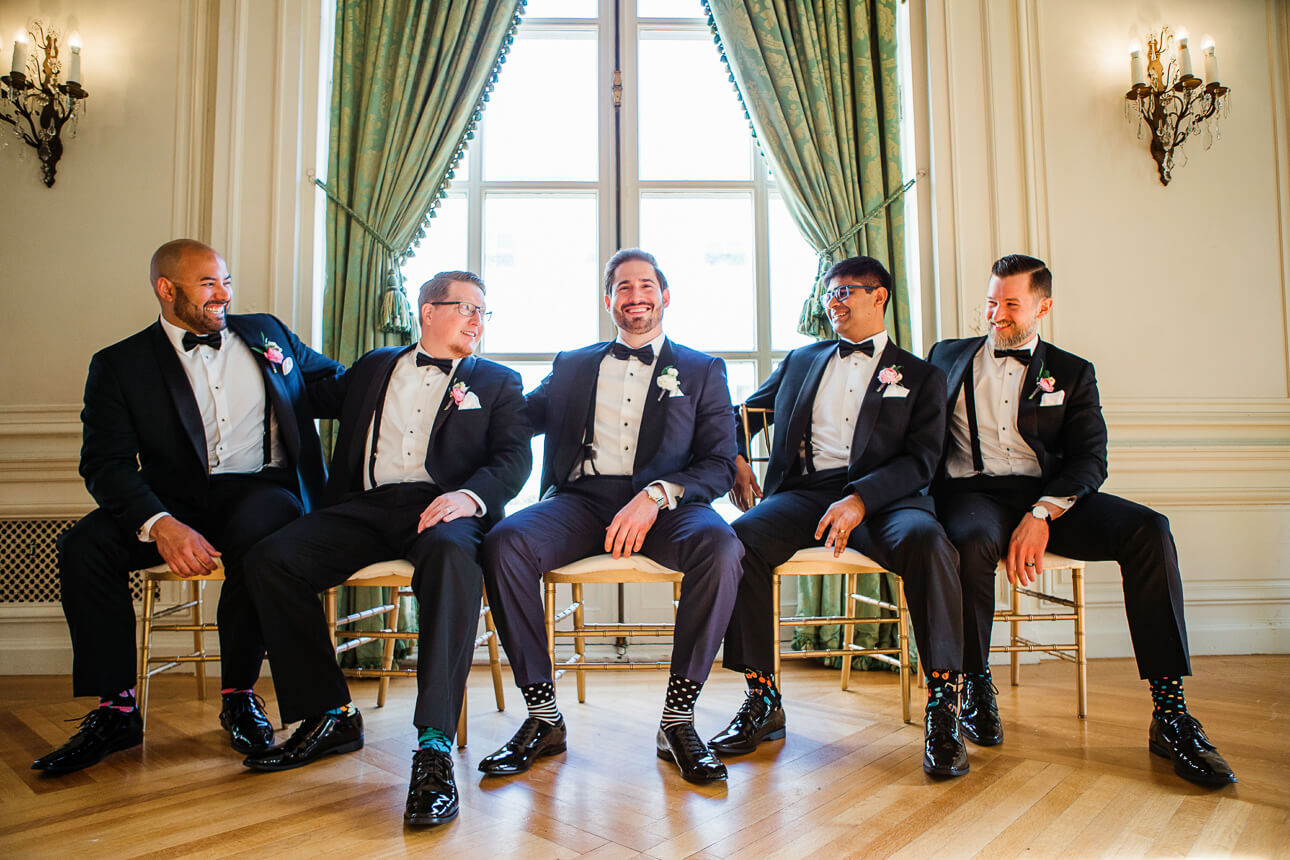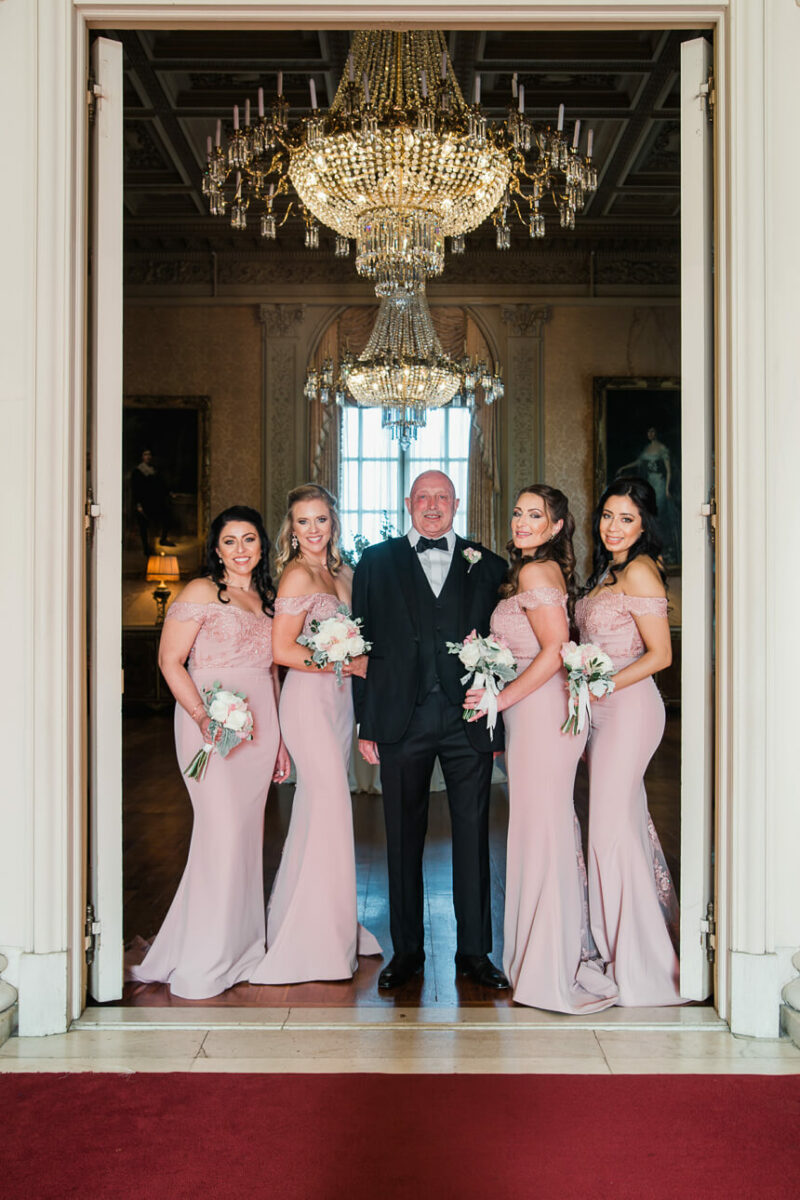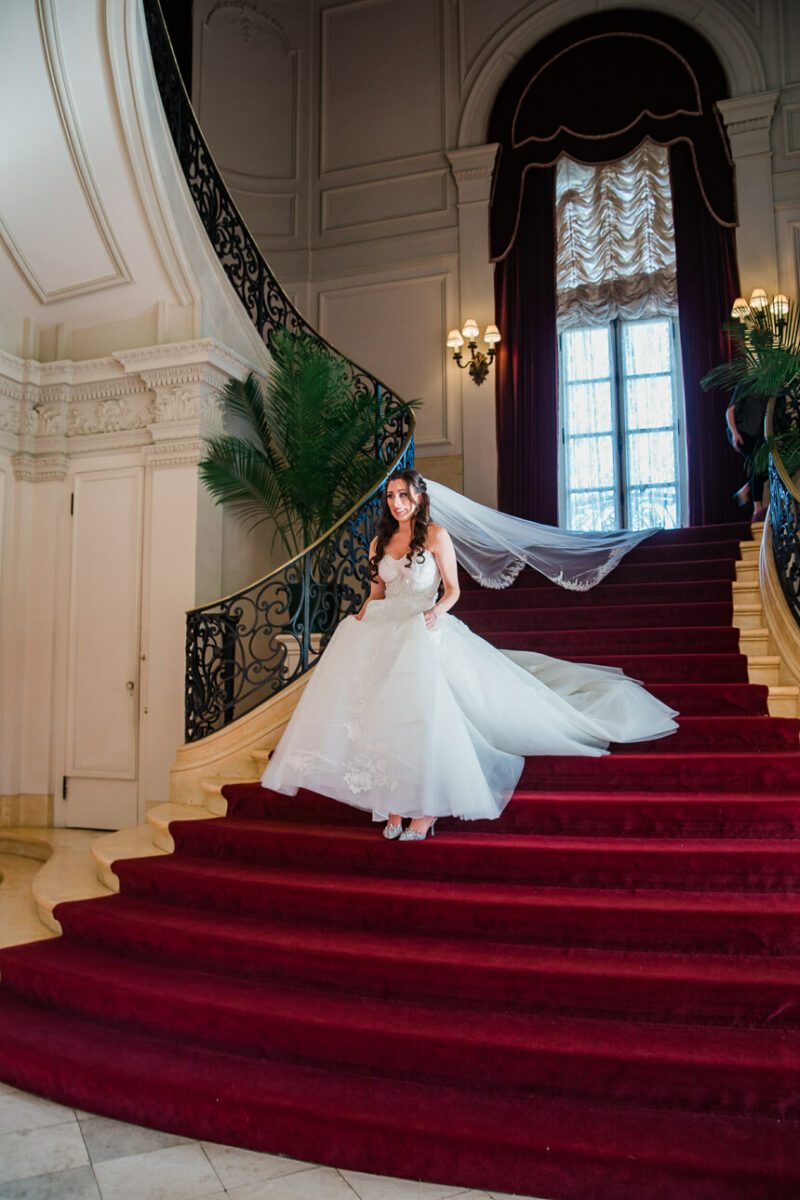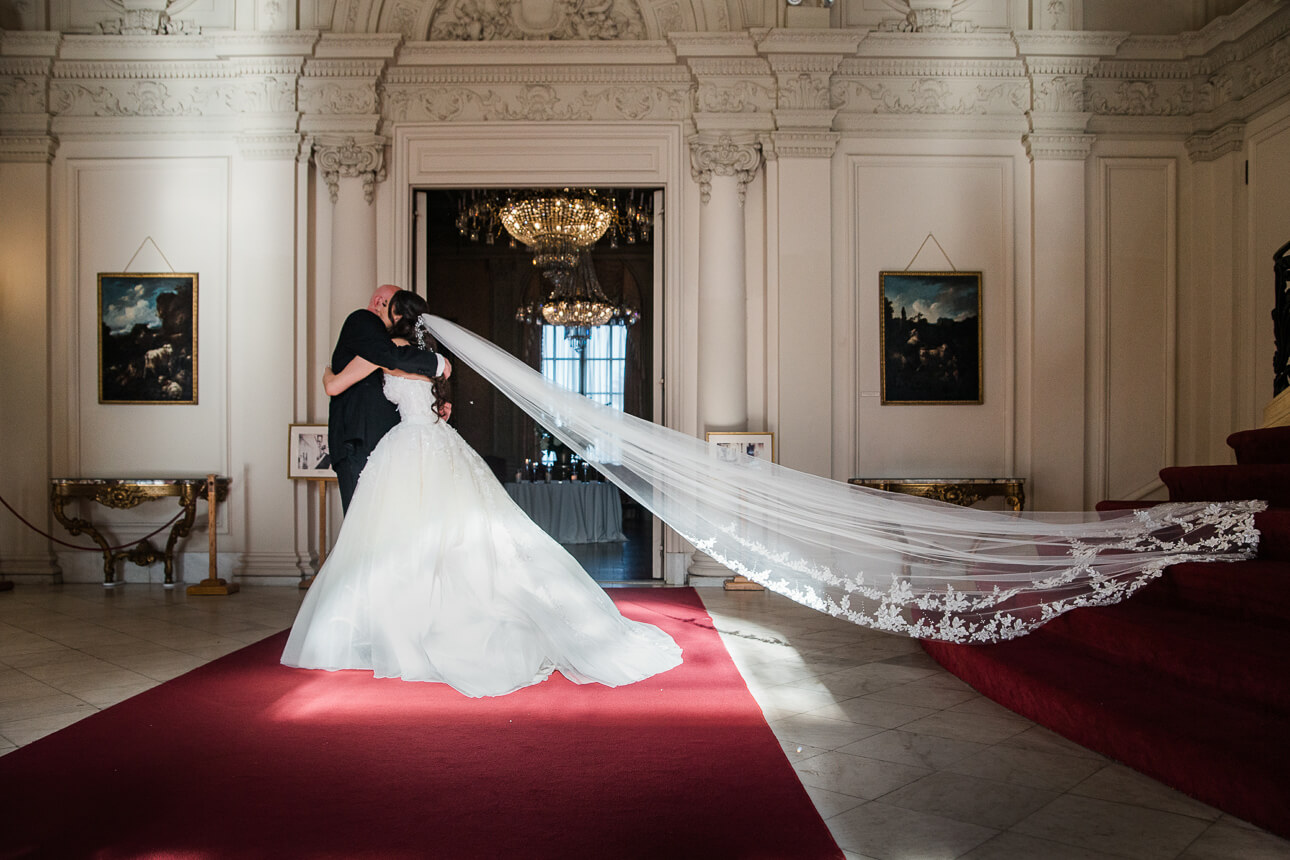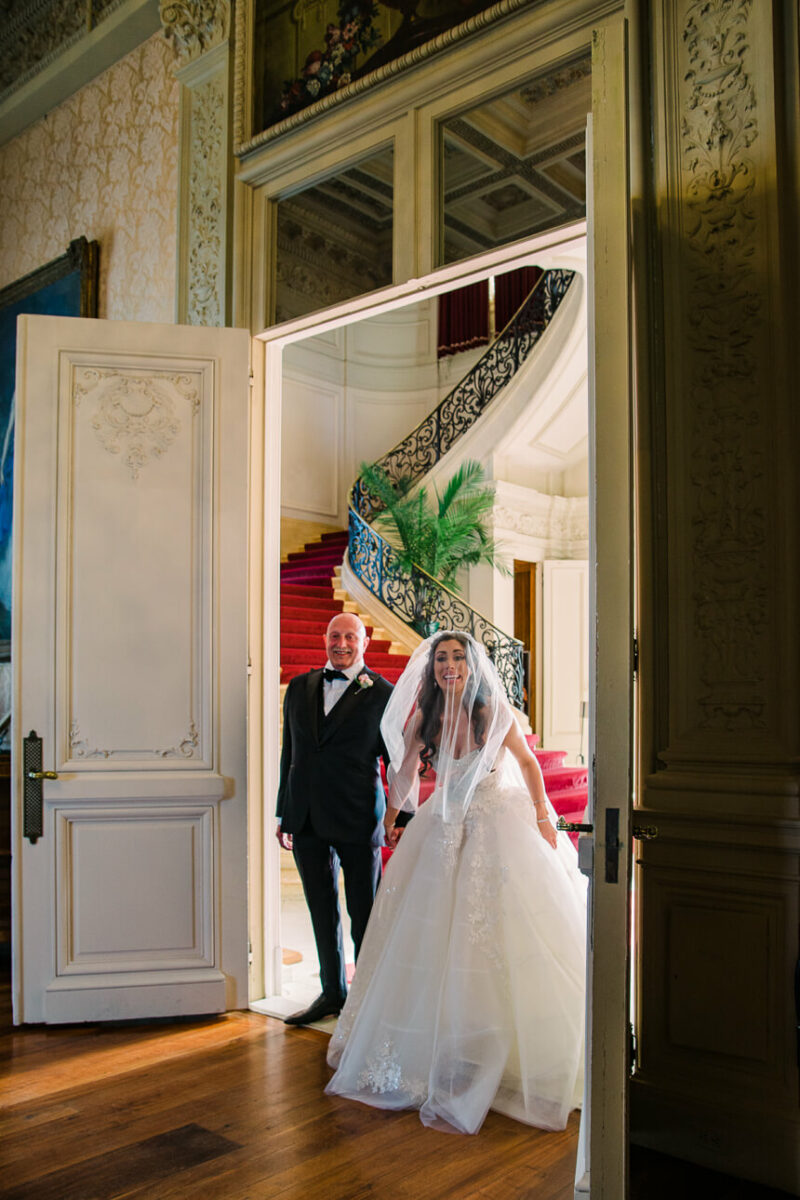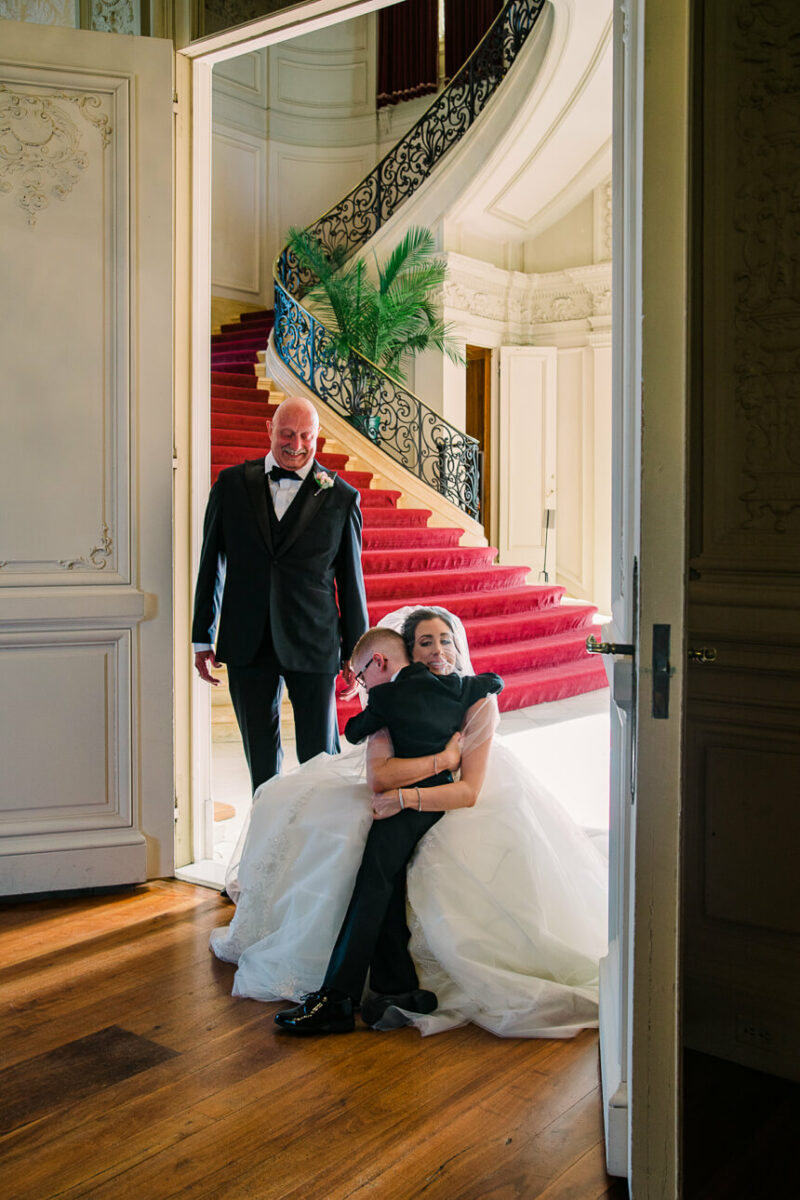 We had a catholic ceremony overlooking the ocean on a beautiful sunny day. We were engaged in Venice, Italy, and I am Italian, so we tried to tie a lot of Italian tradition and theme into our wedding, from our Italian shoes to our favors to the vase-breaking ceremony, and our Venetian Dessert Table.

Ashley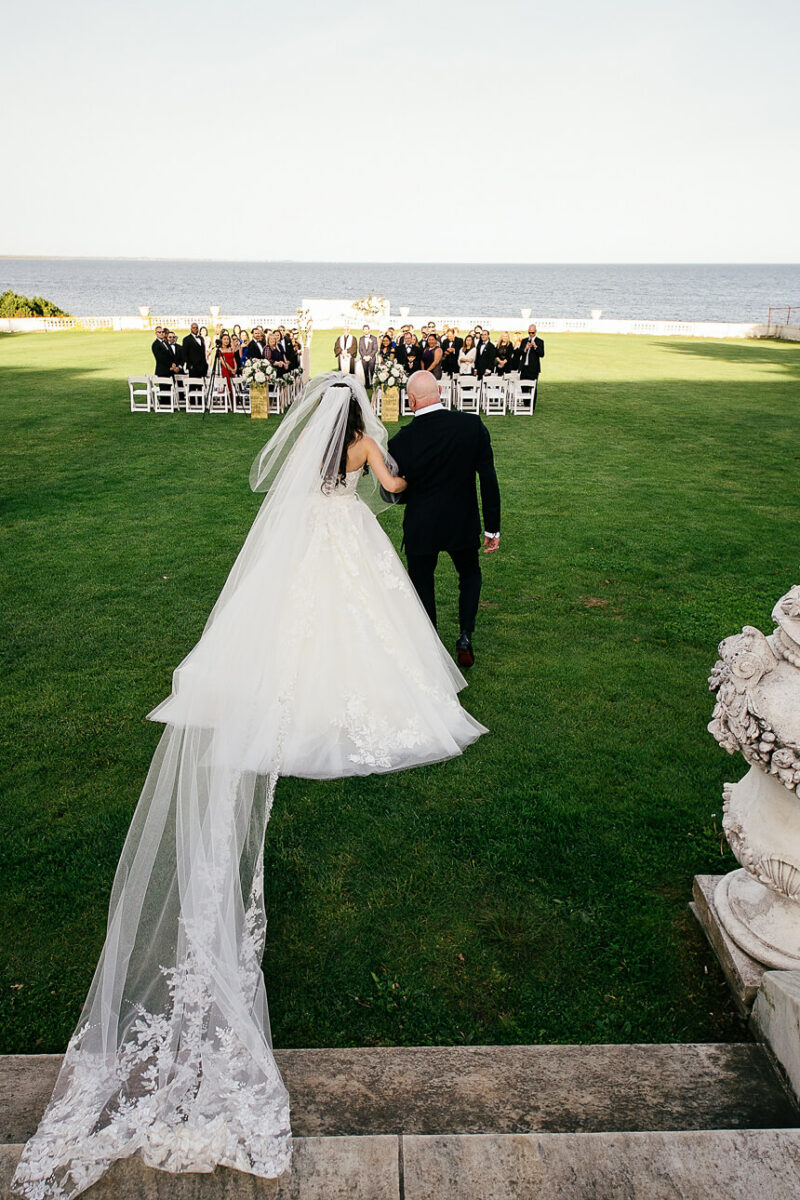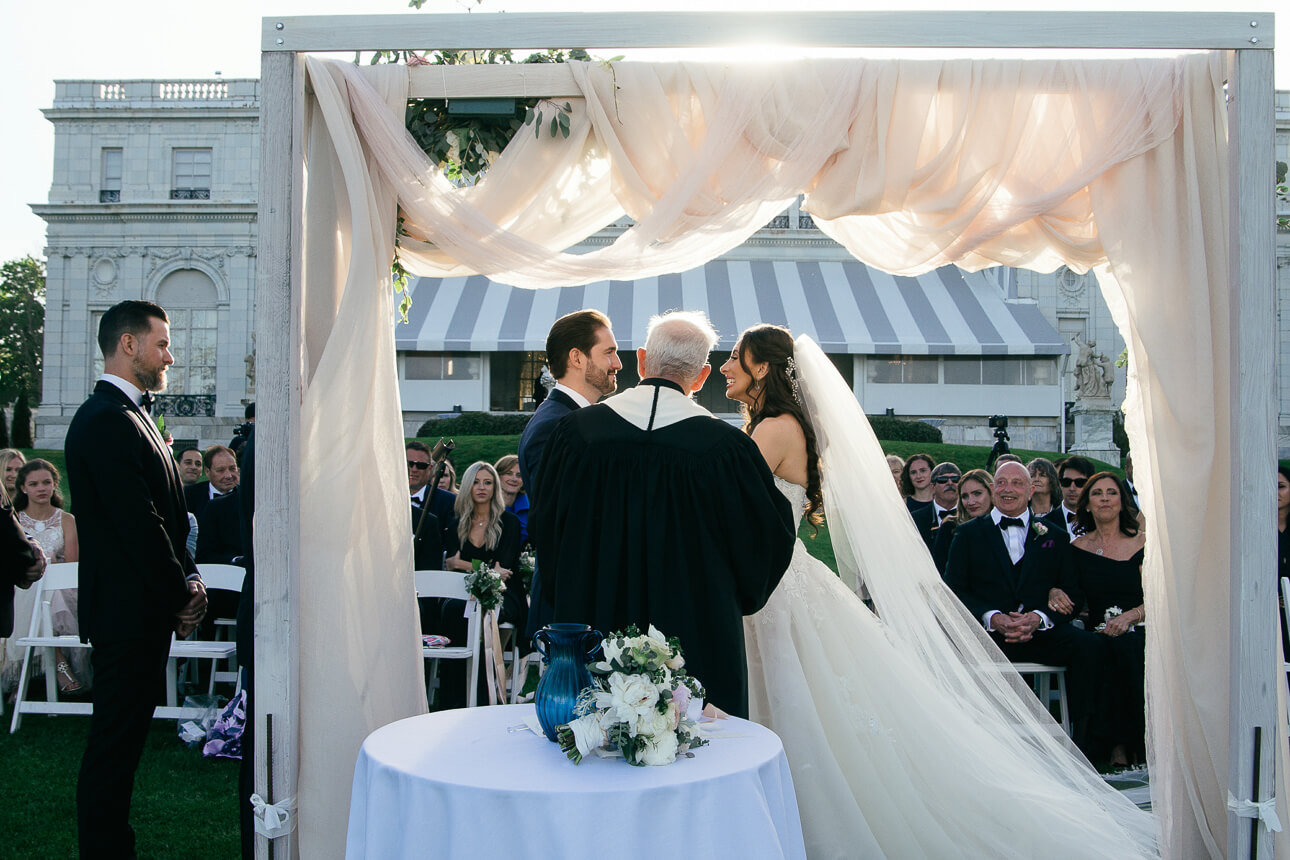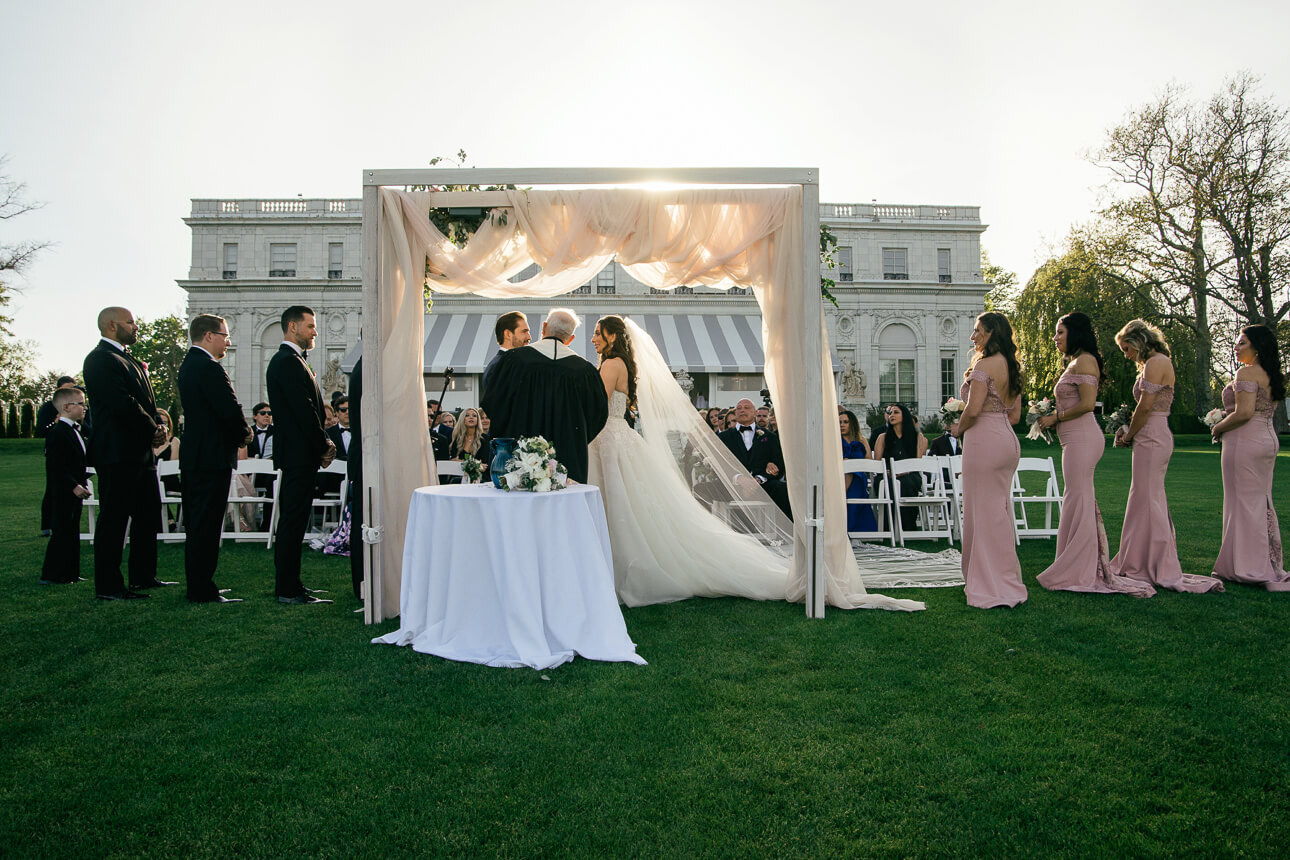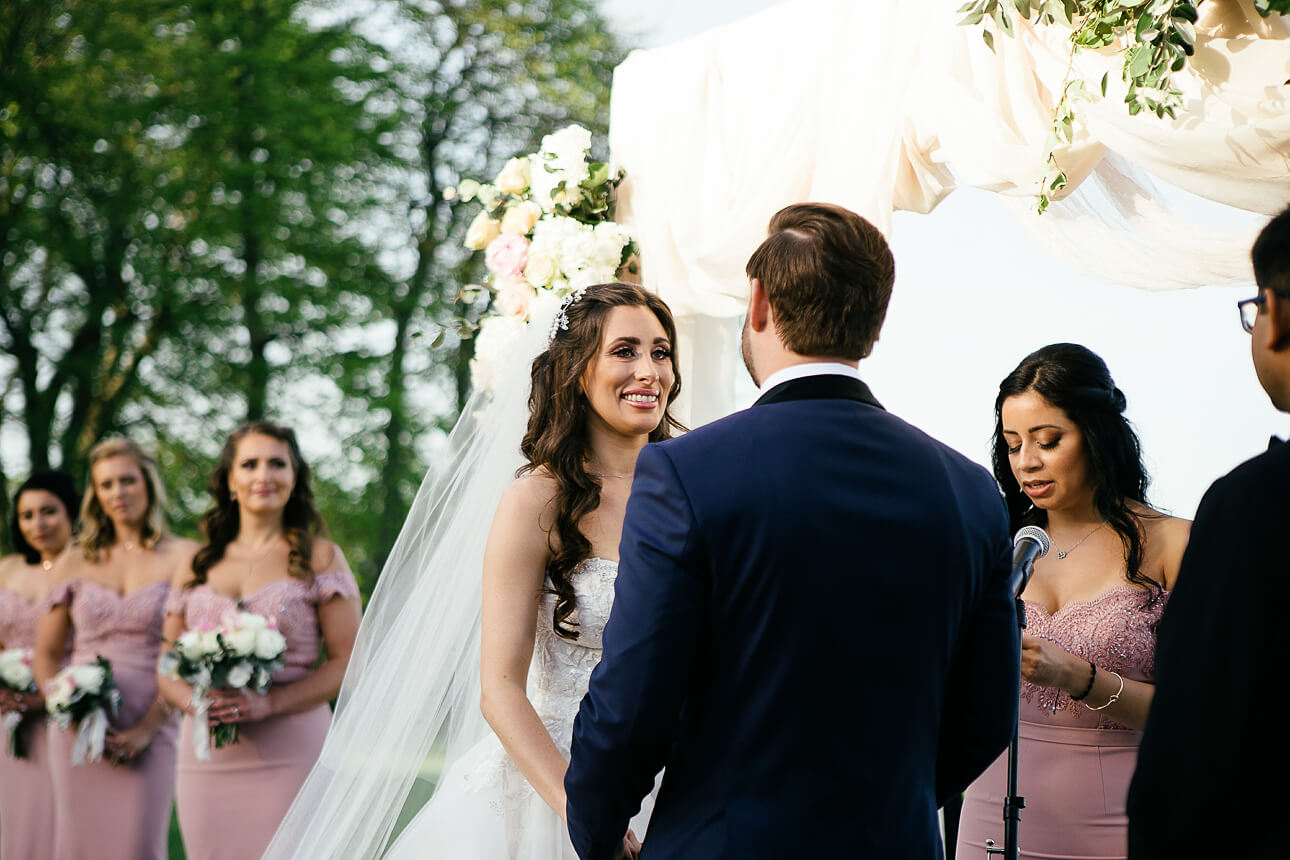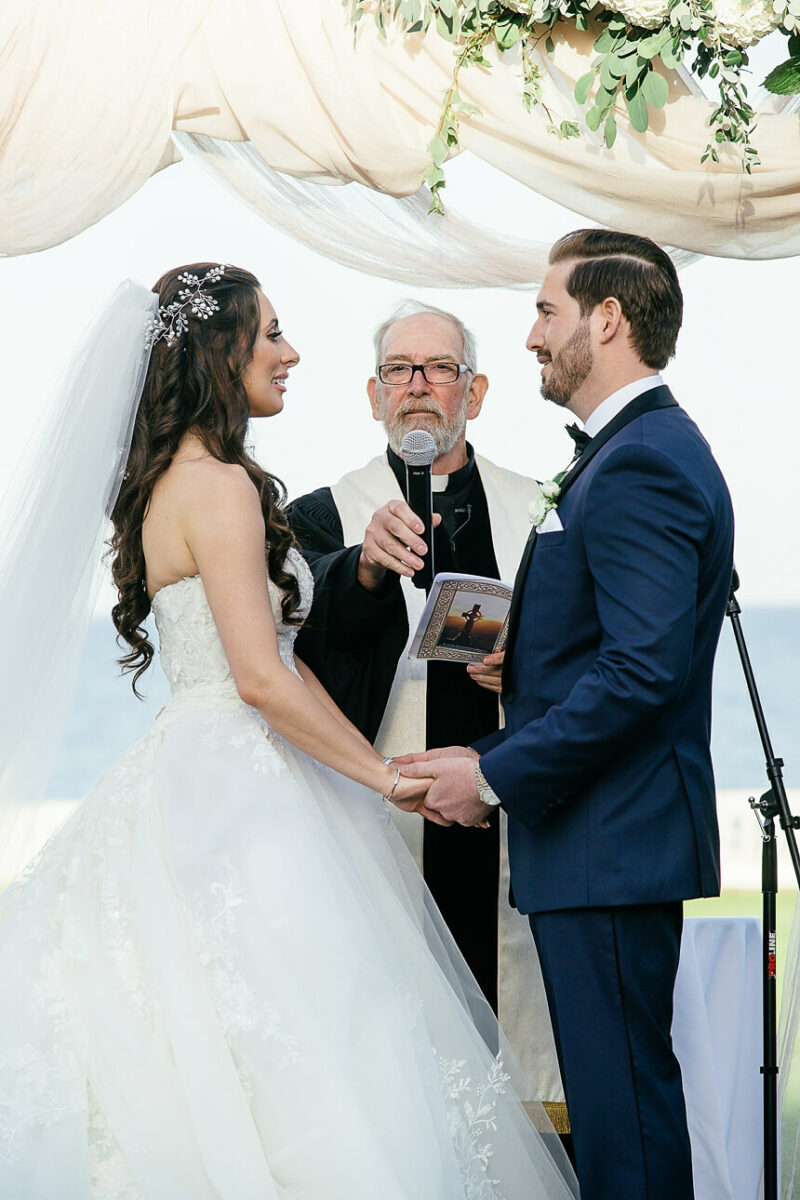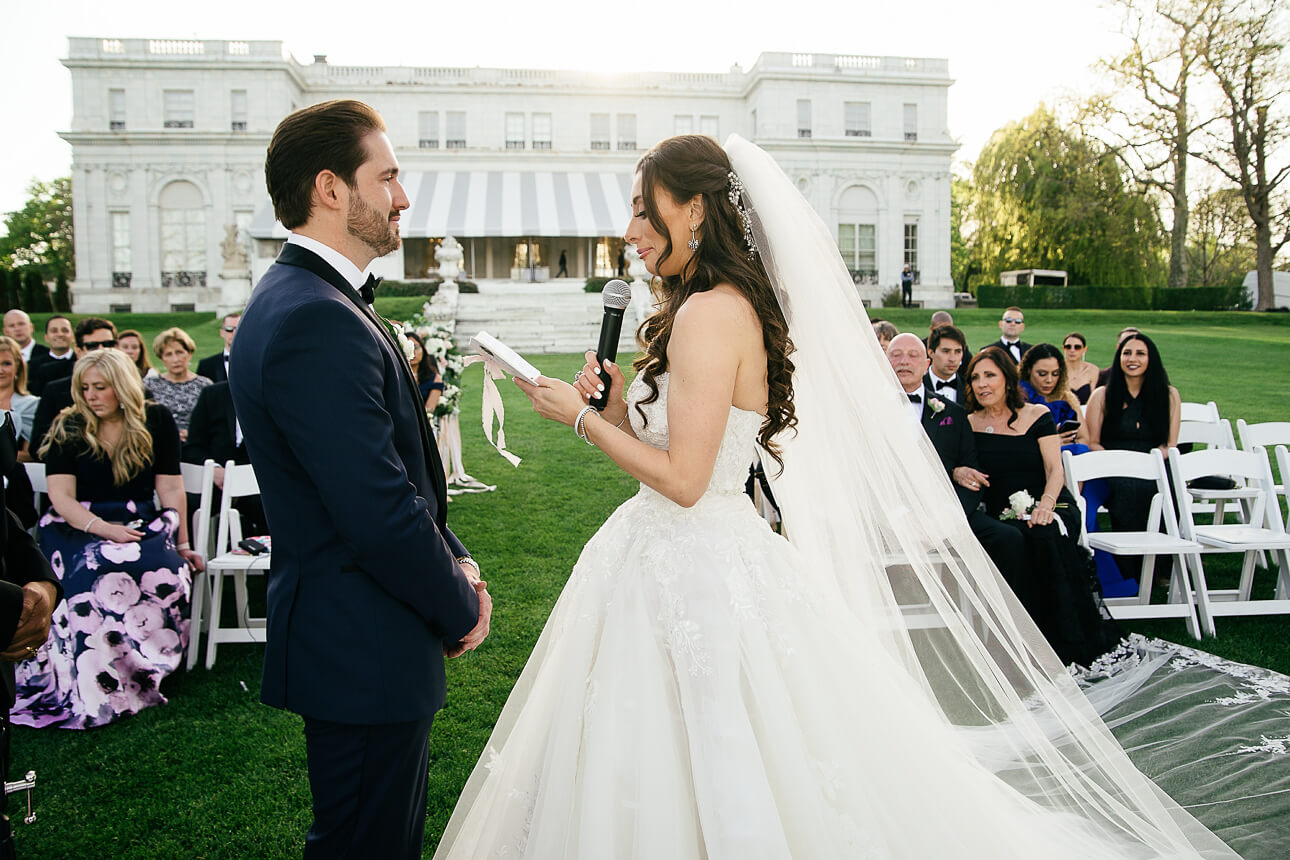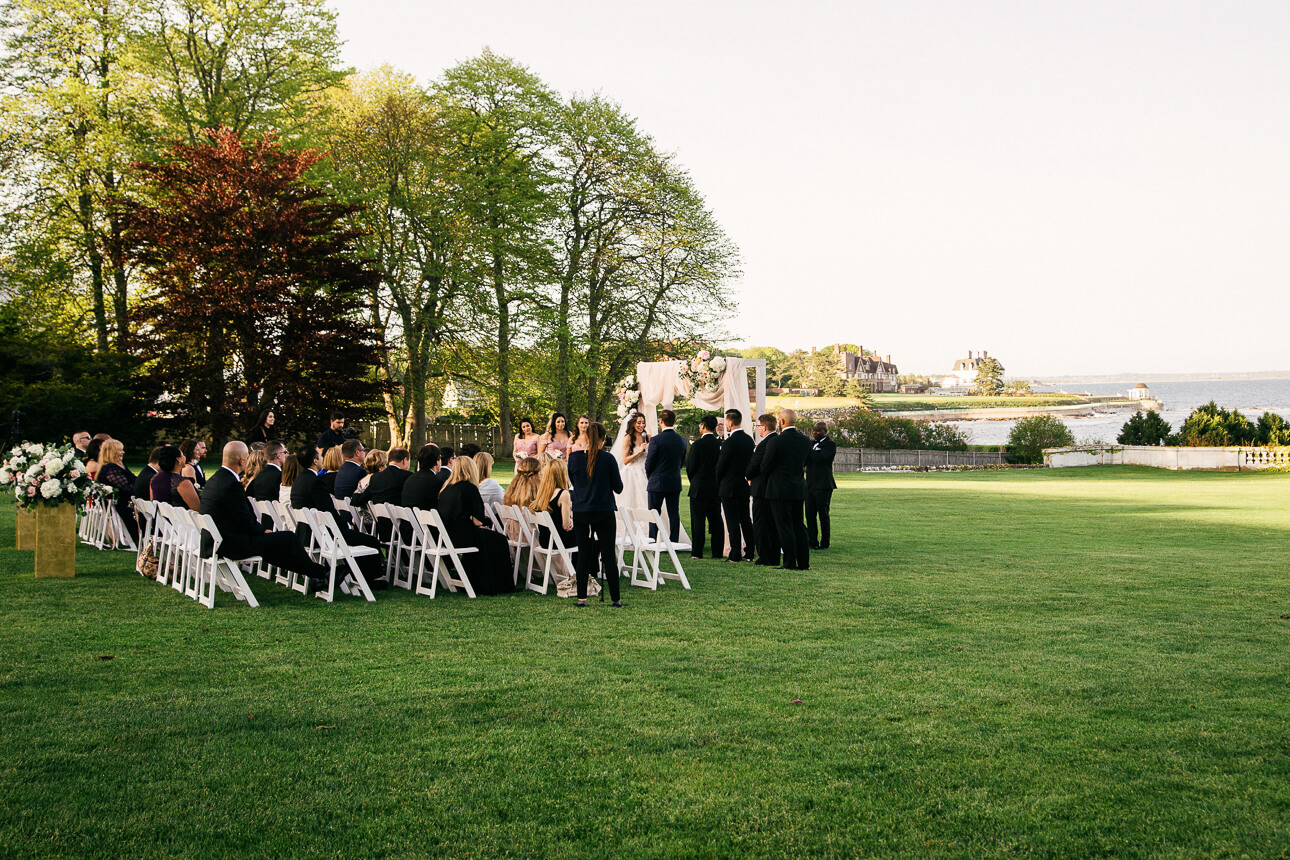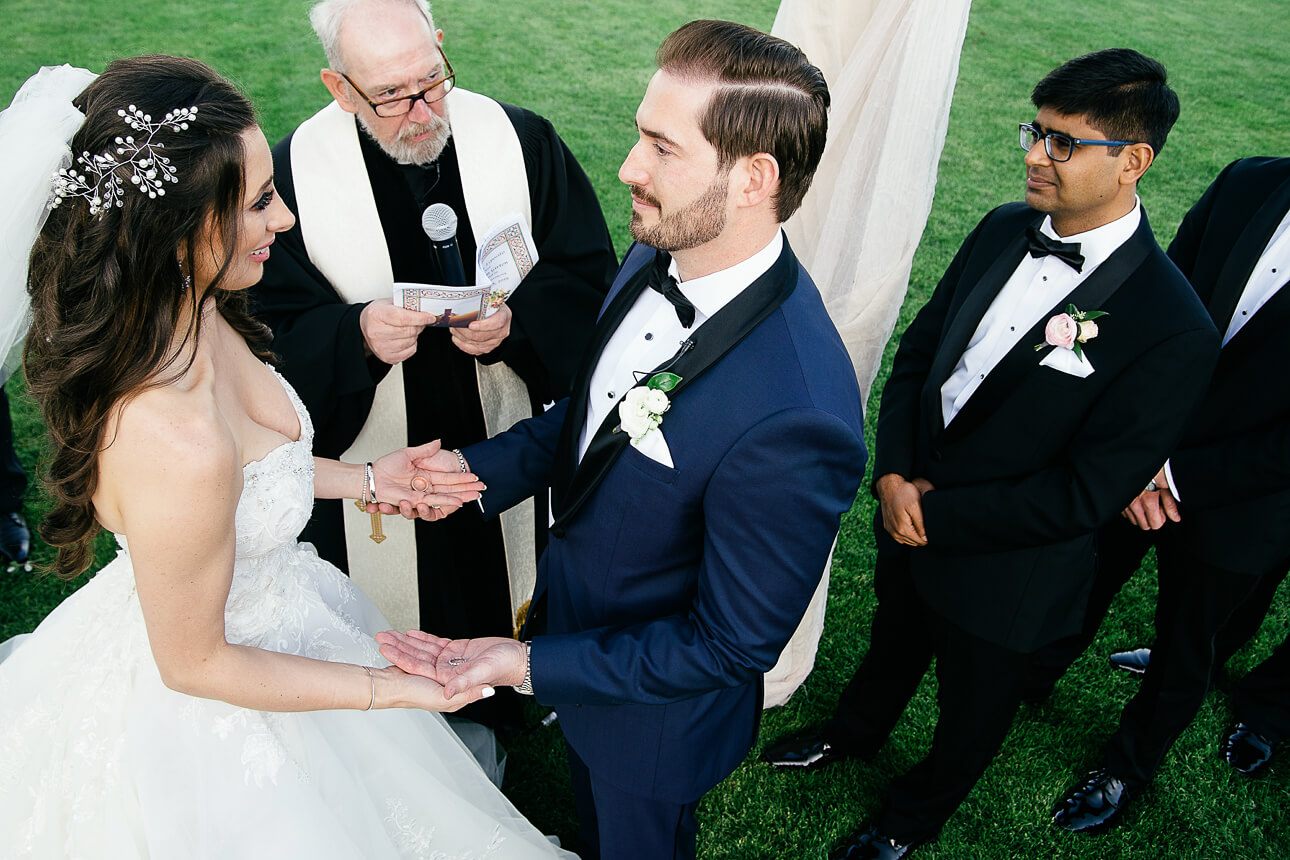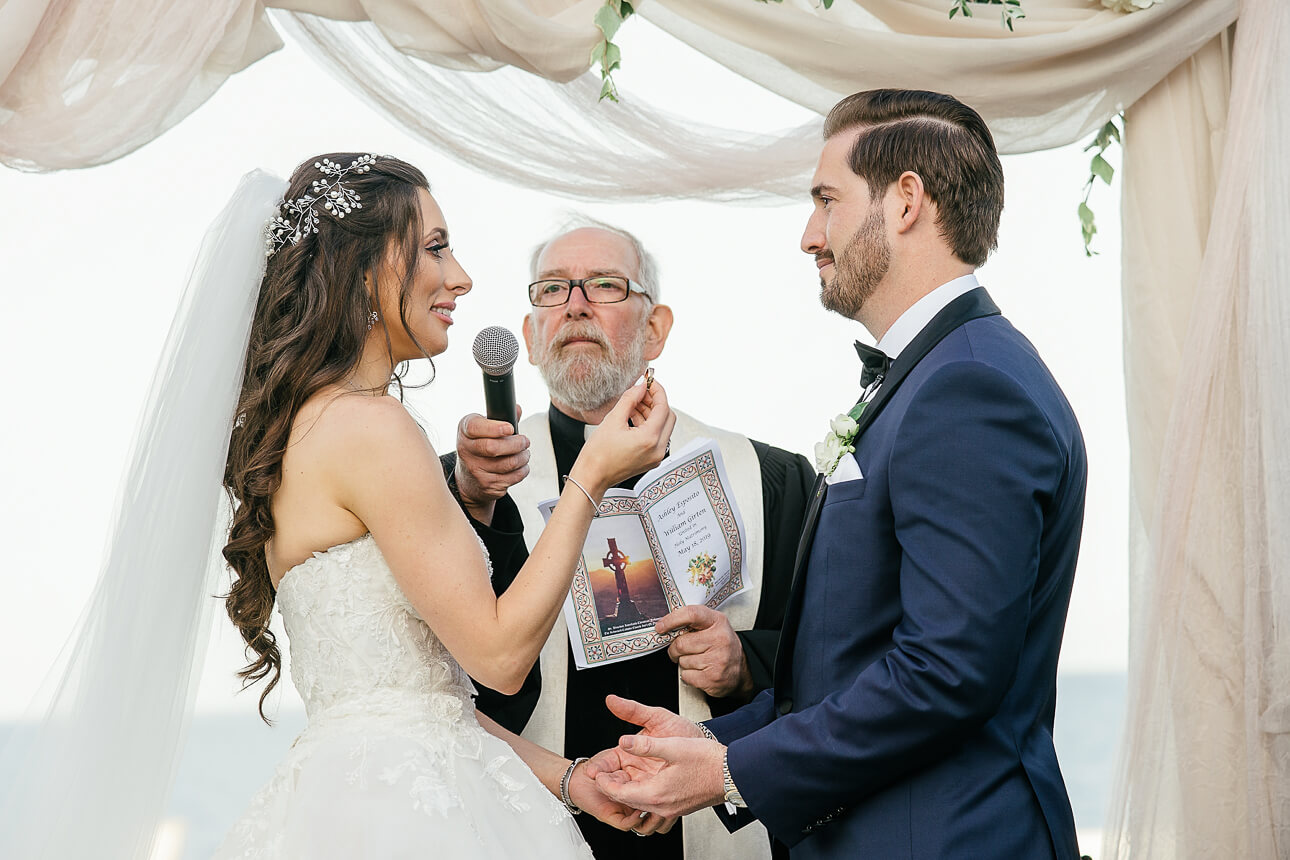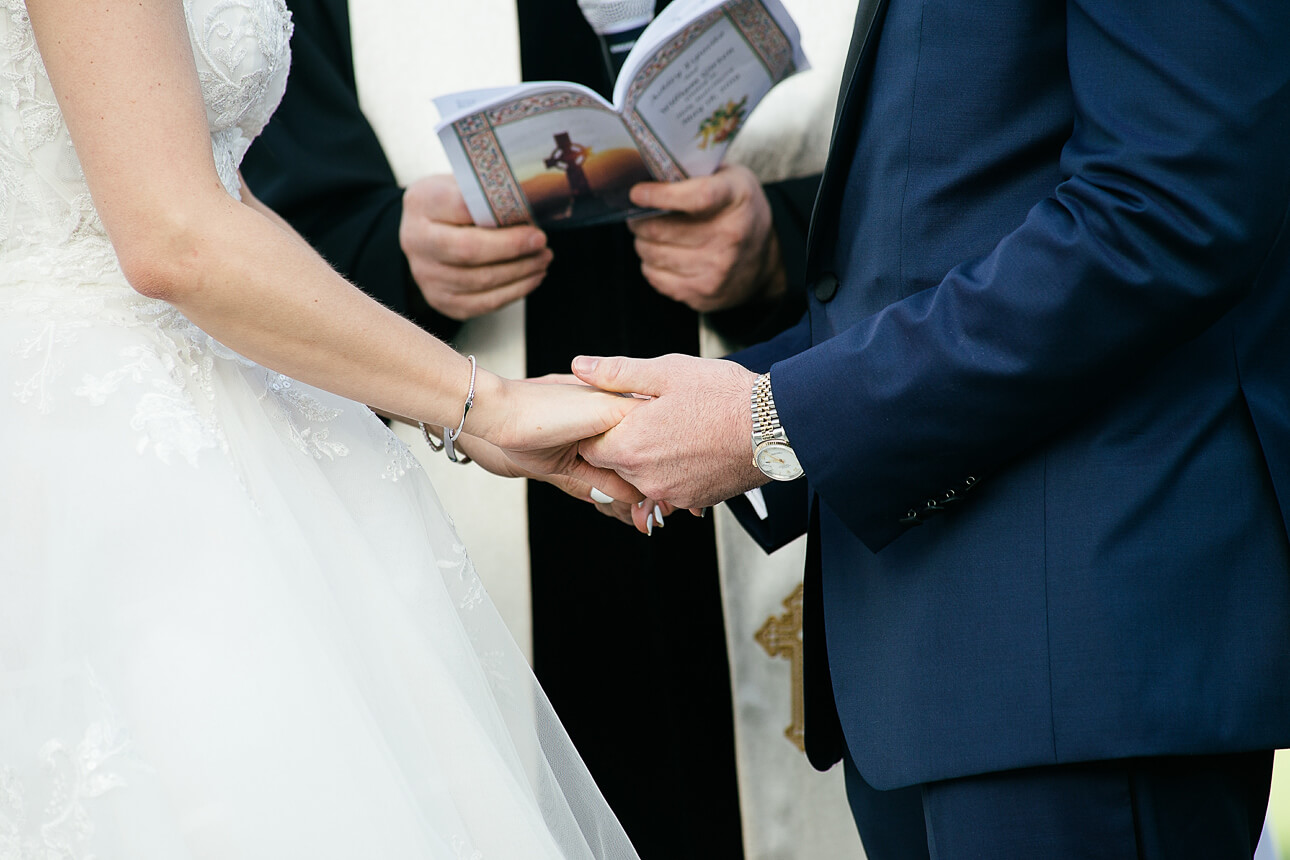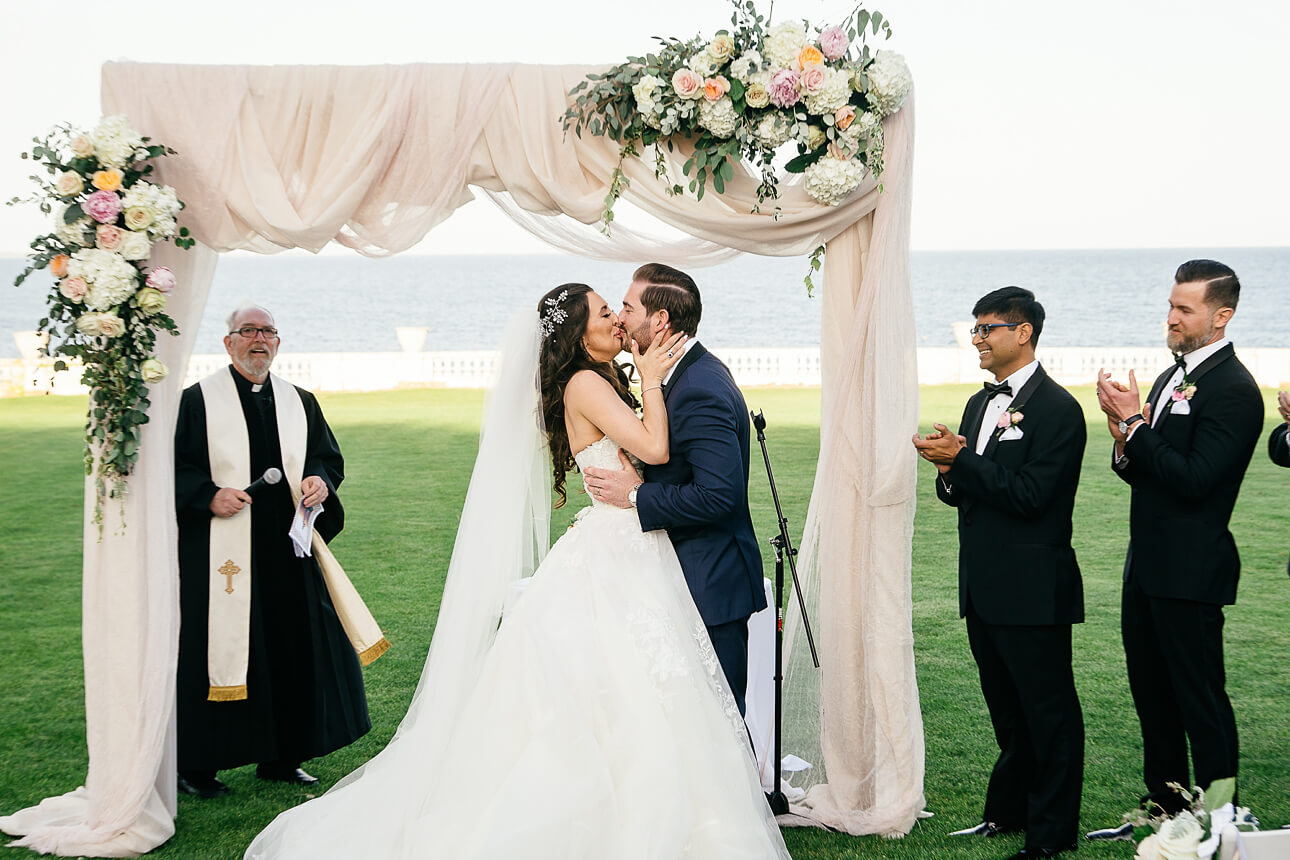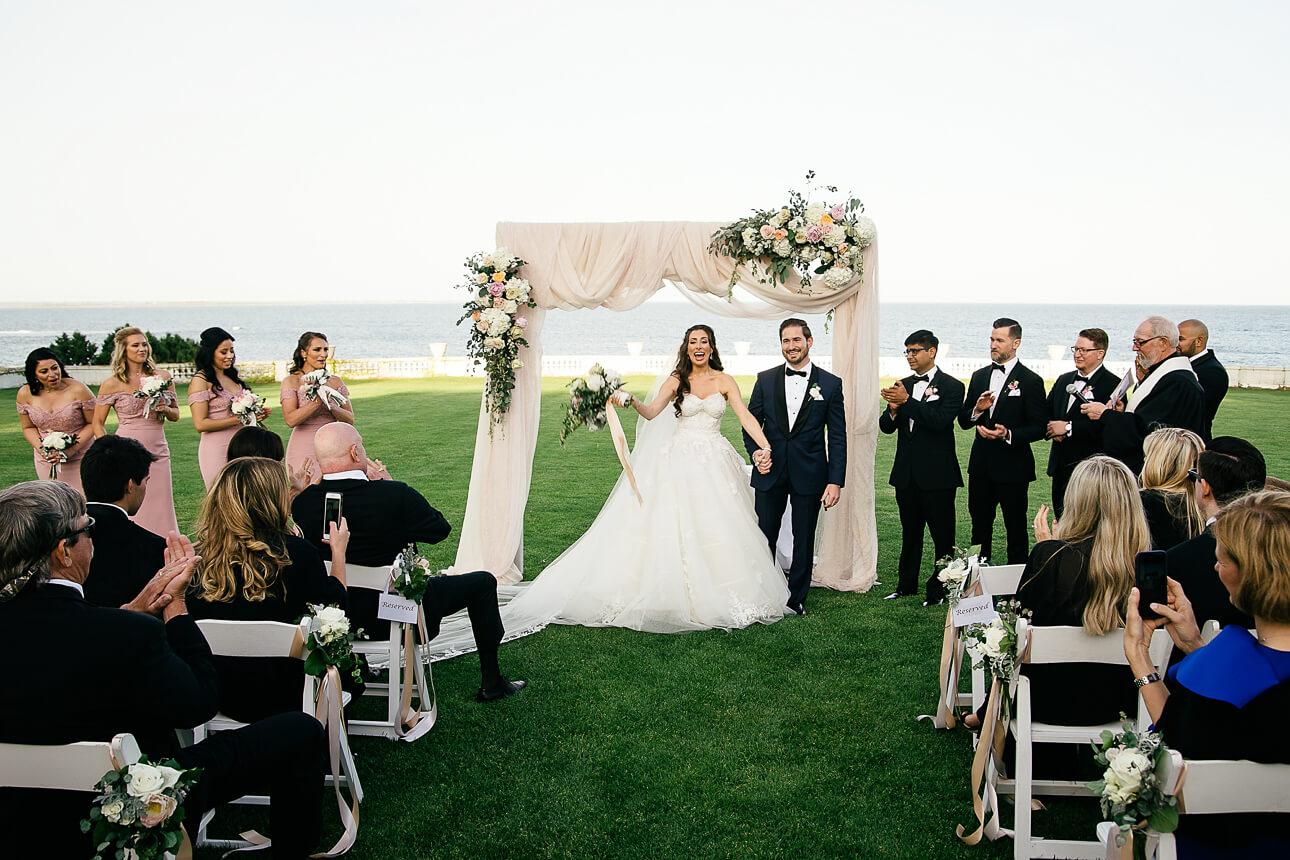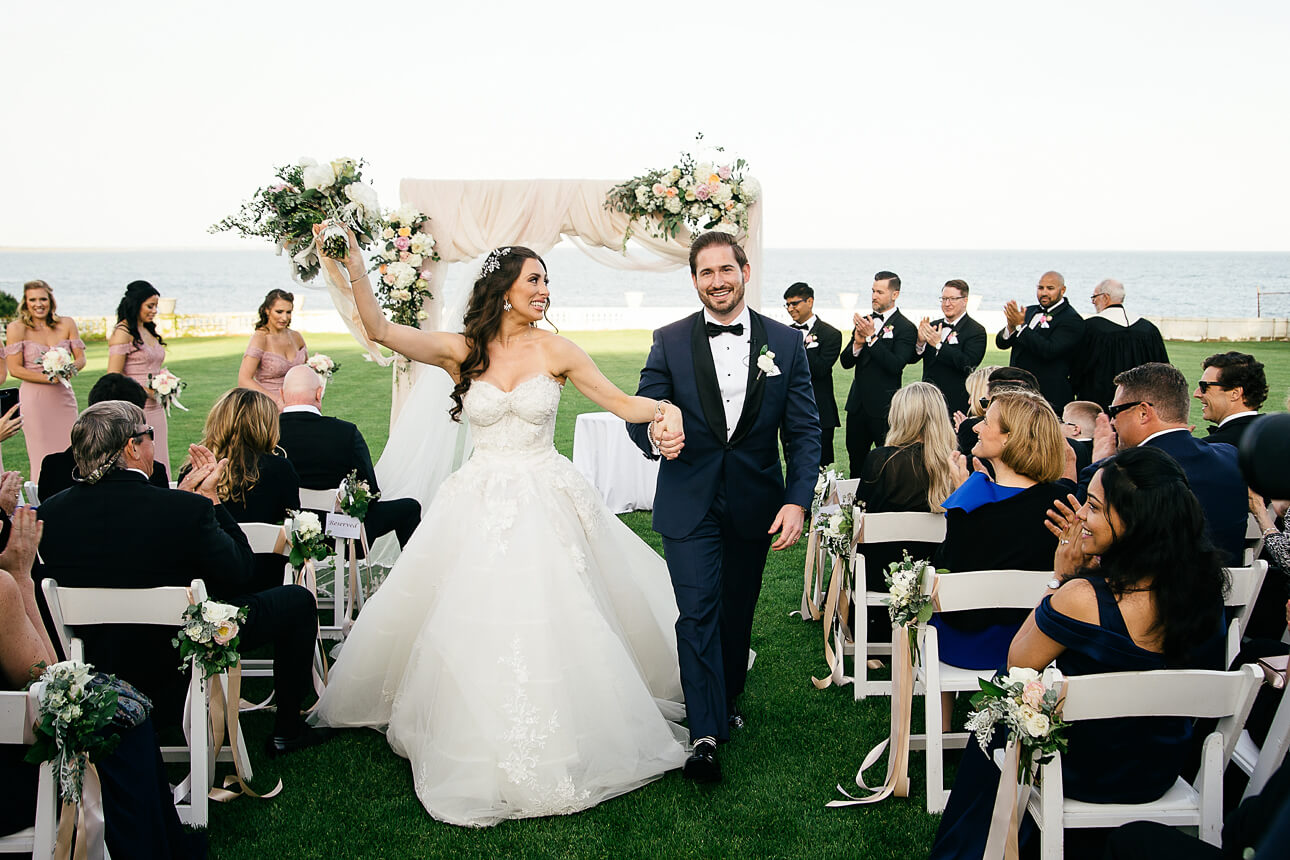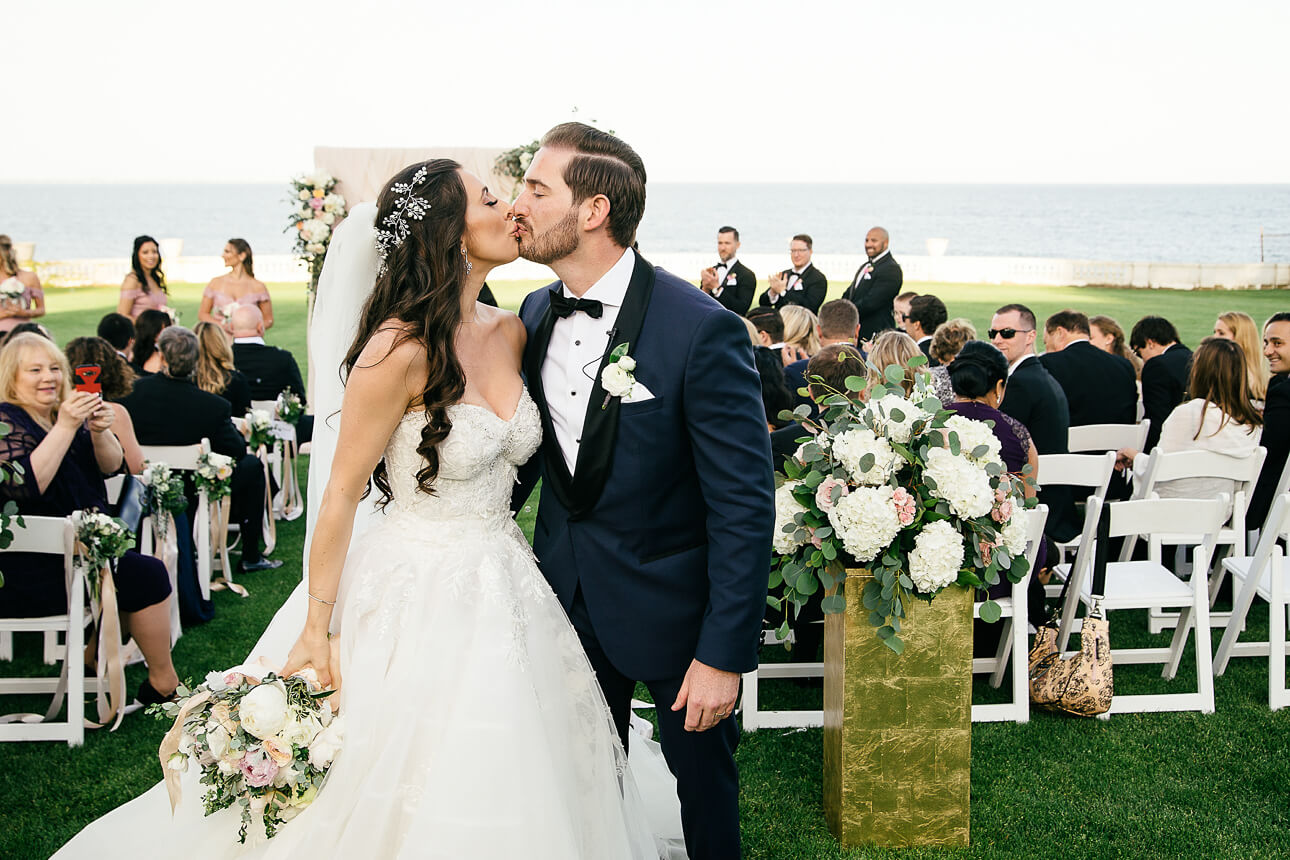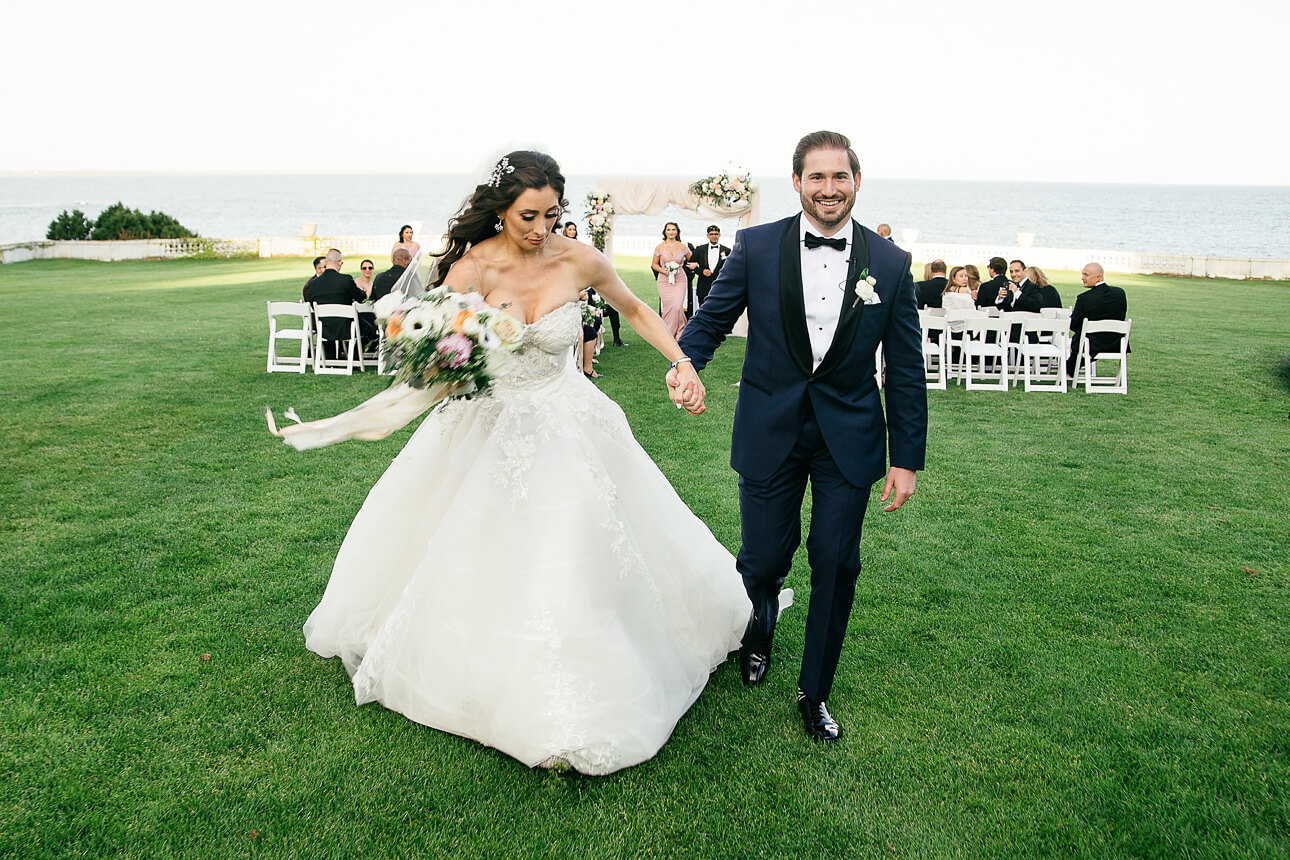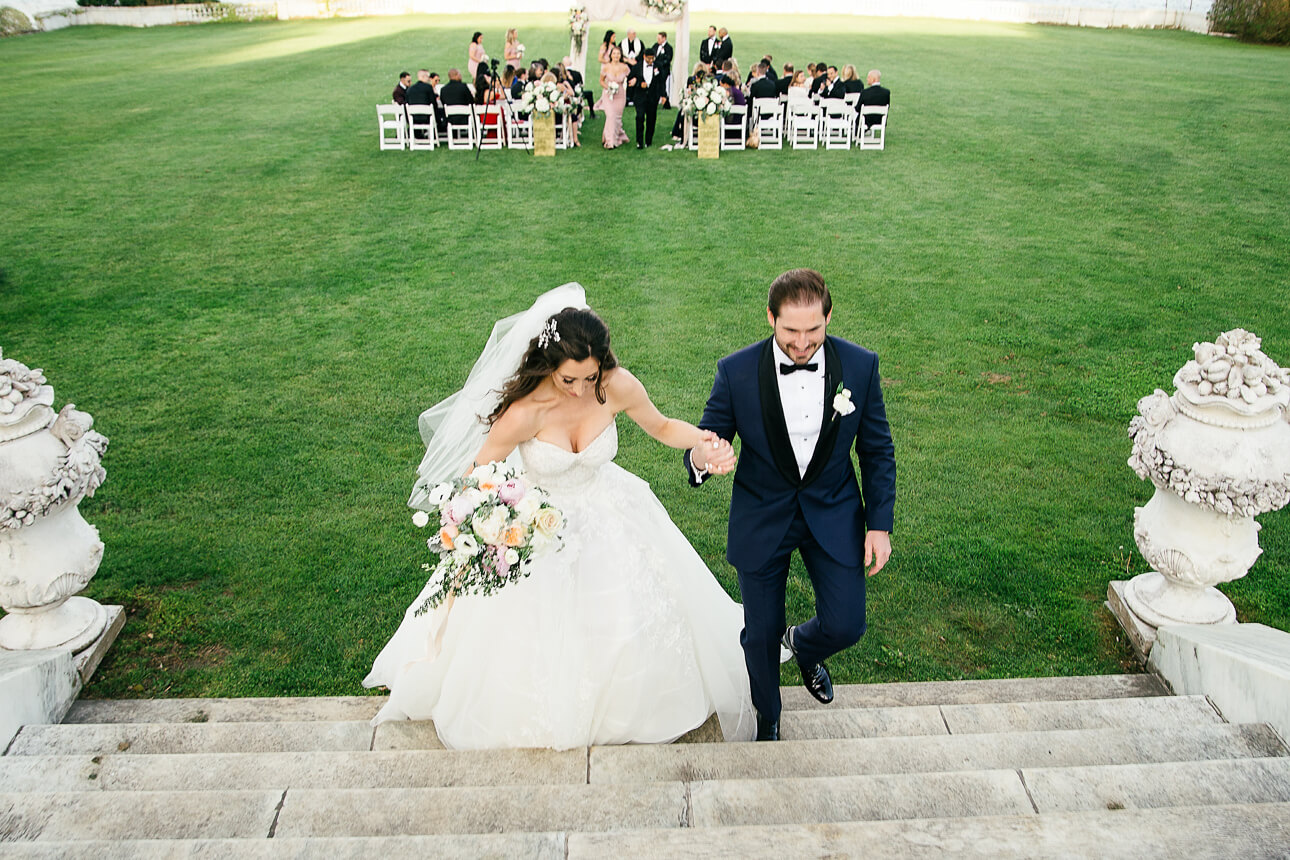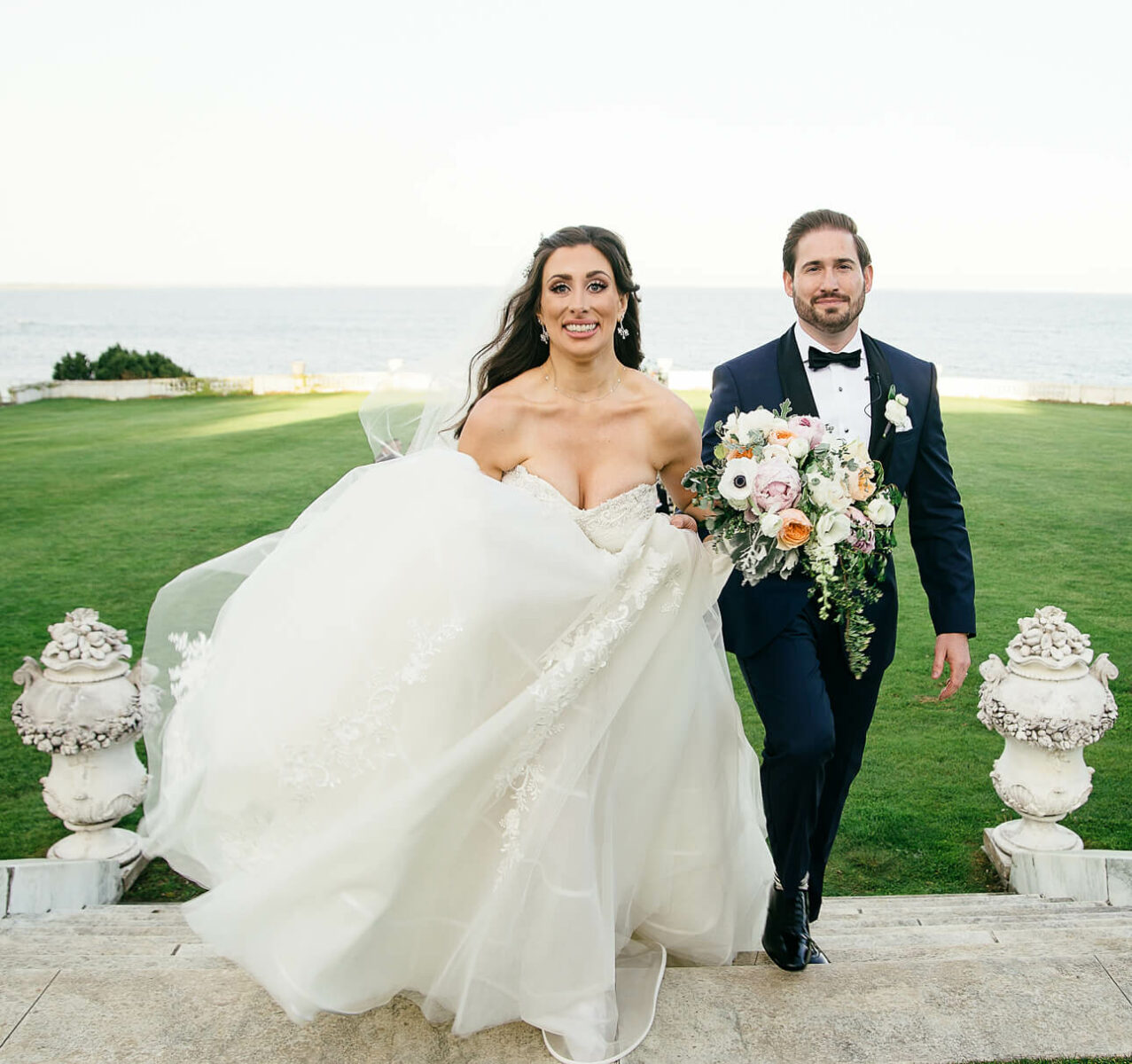 Immediately after the ceremony, our guests enjoyed a champagne tower, pamplemosa cocktails garnished with fresh orchids, and amazing passed hors d 'oeuvres. Will and I snuck away with our photo and video team and took the most unbelievable sunset shots on the rocks overlooking the ocean.

Ashley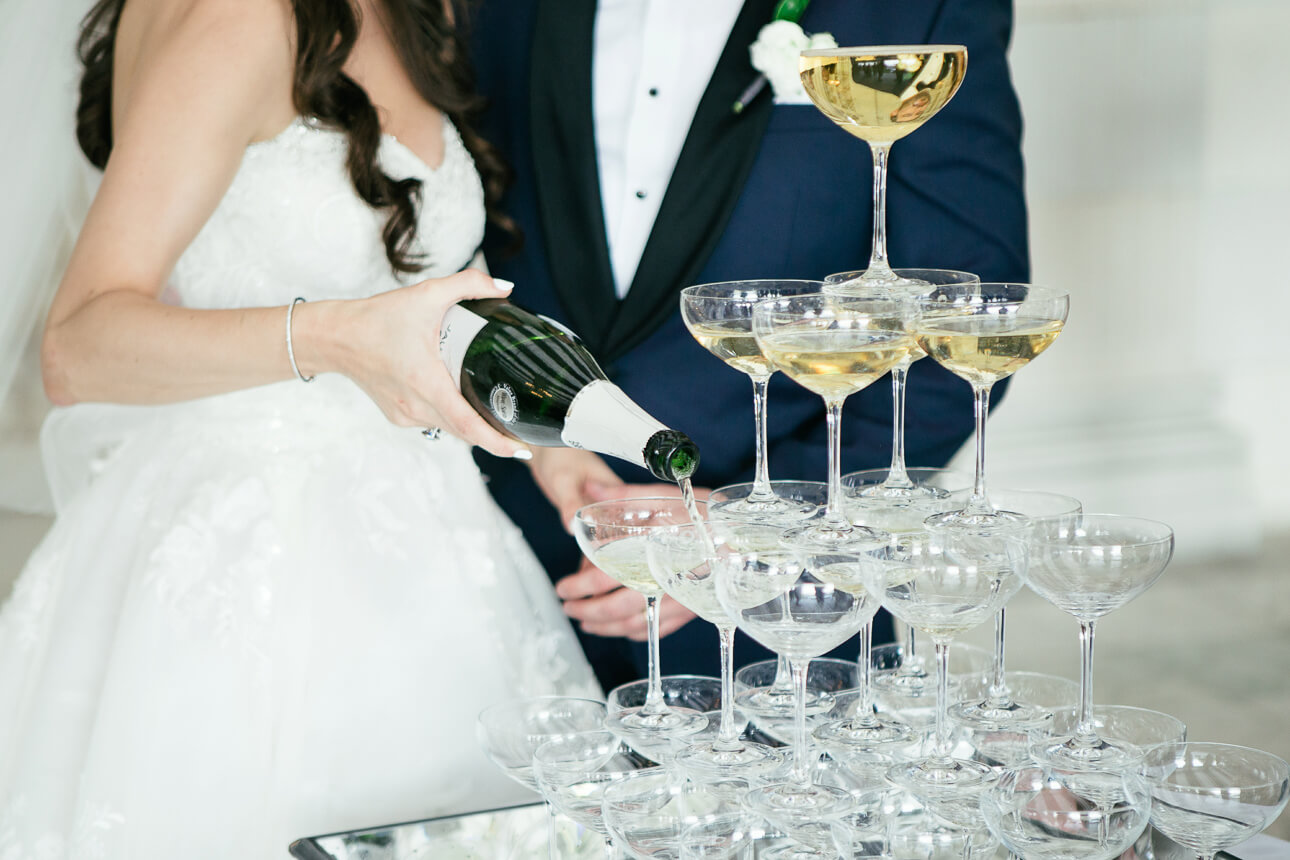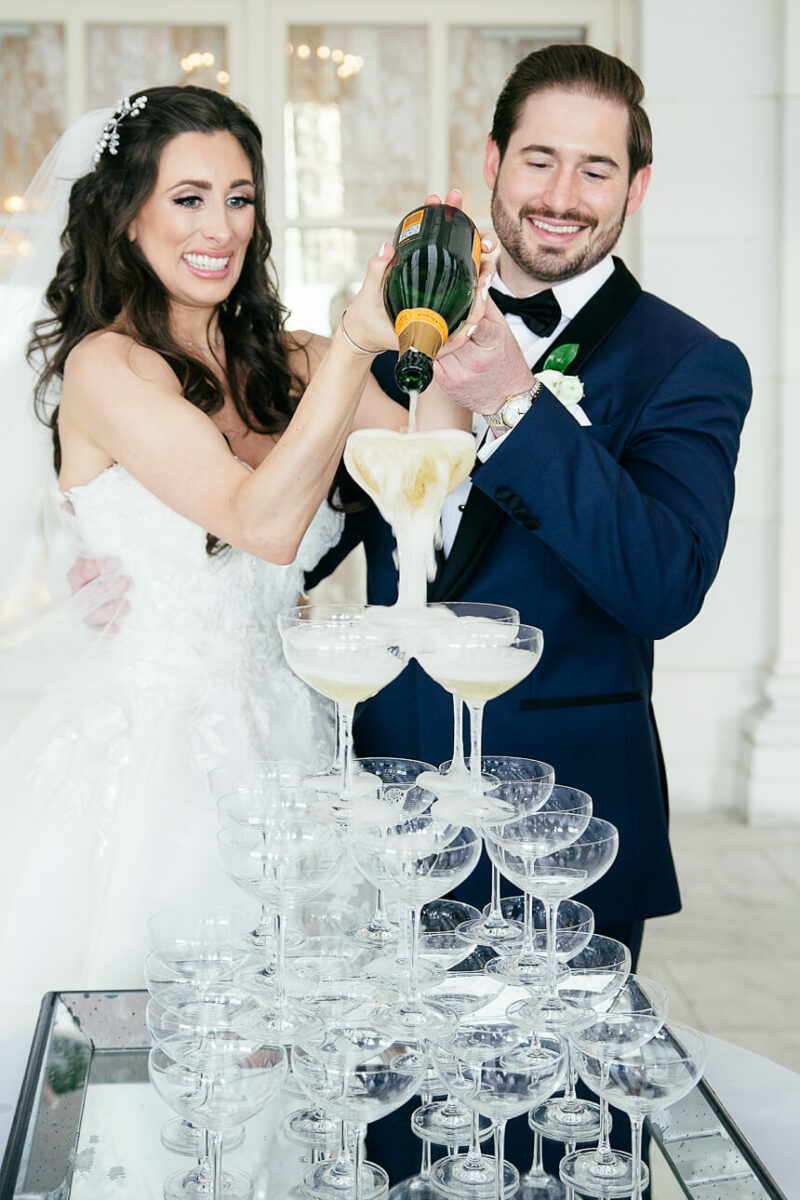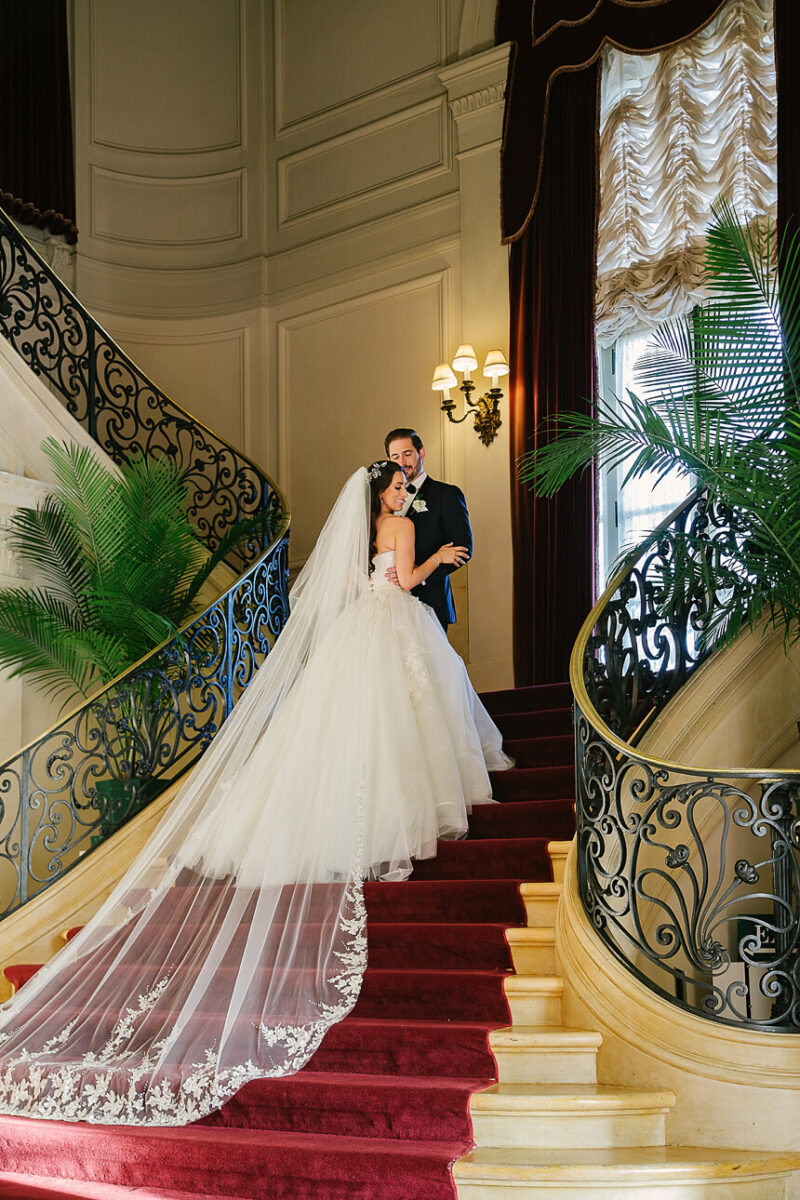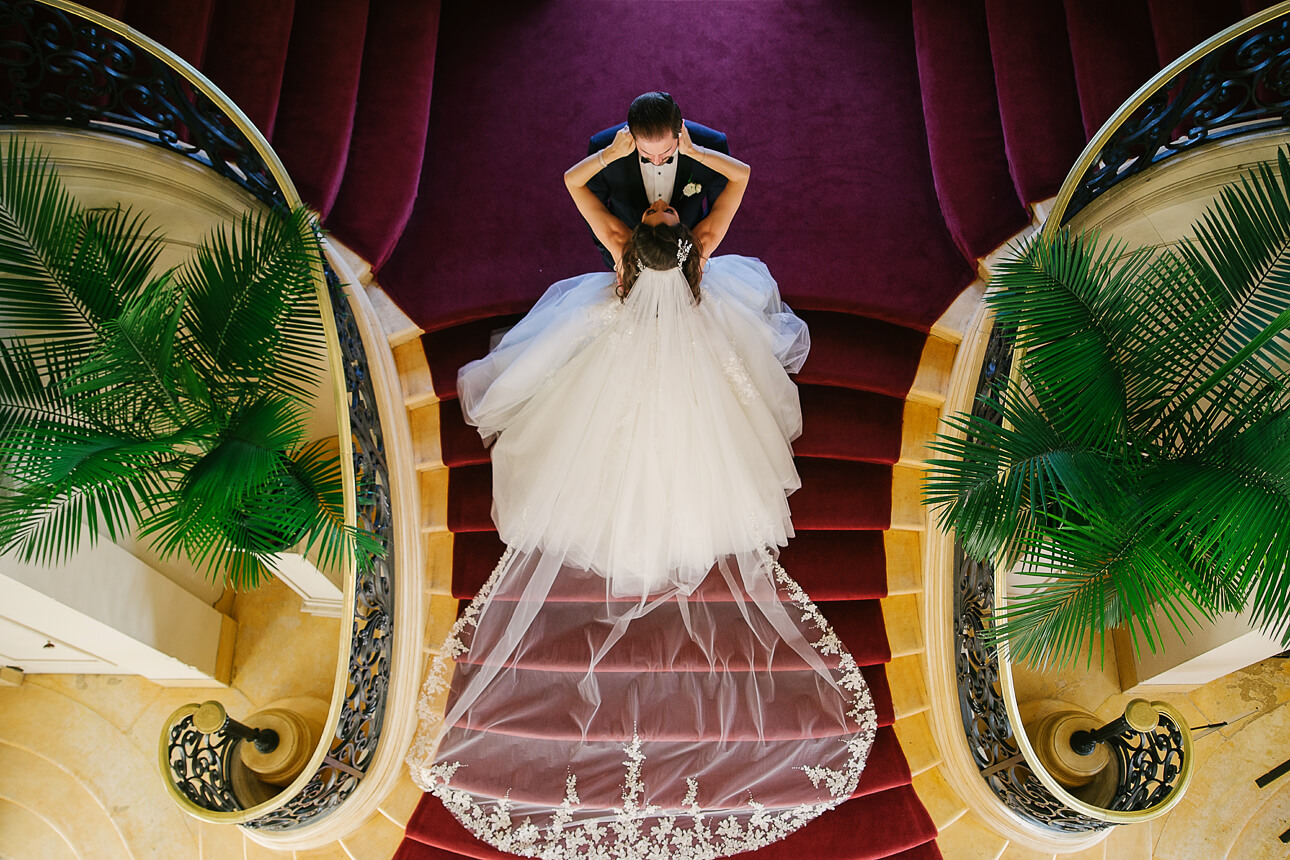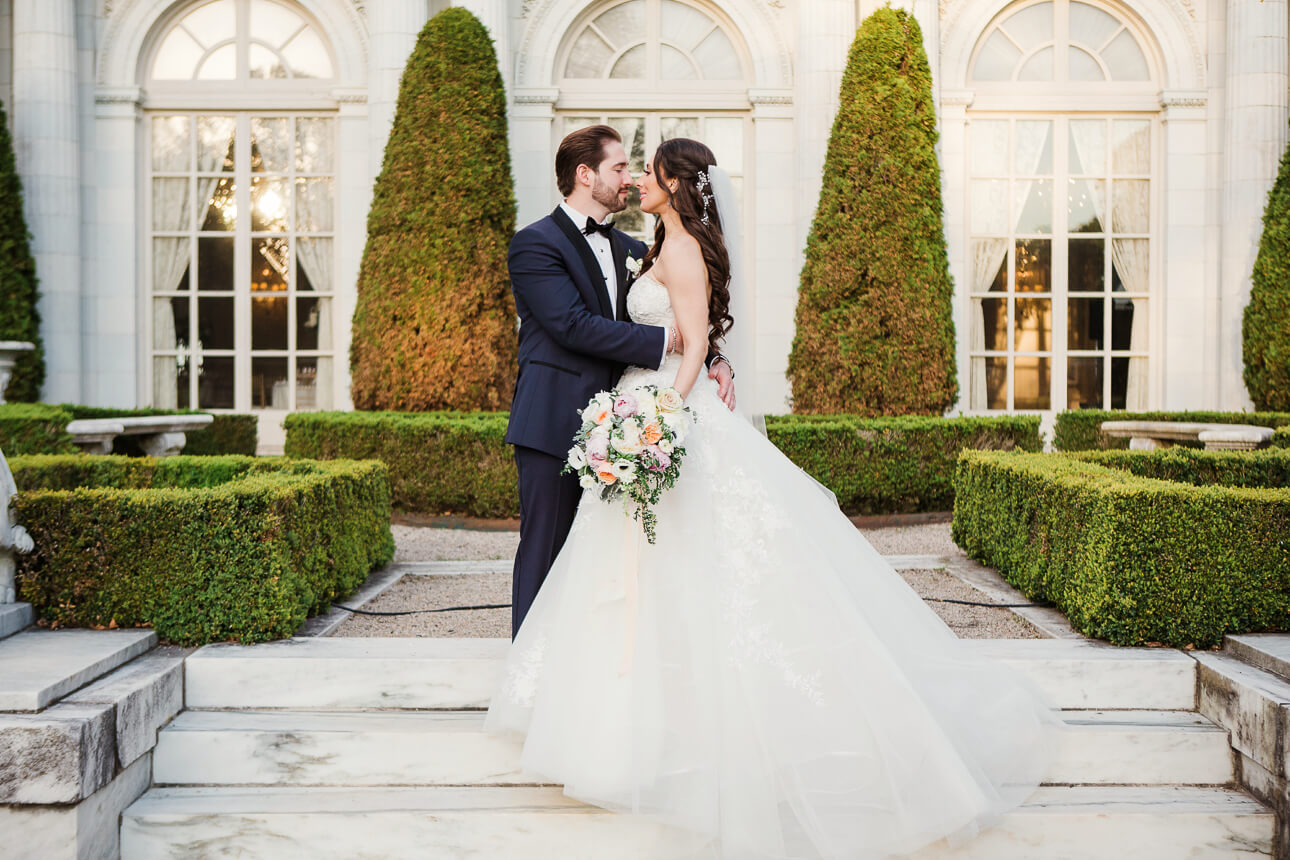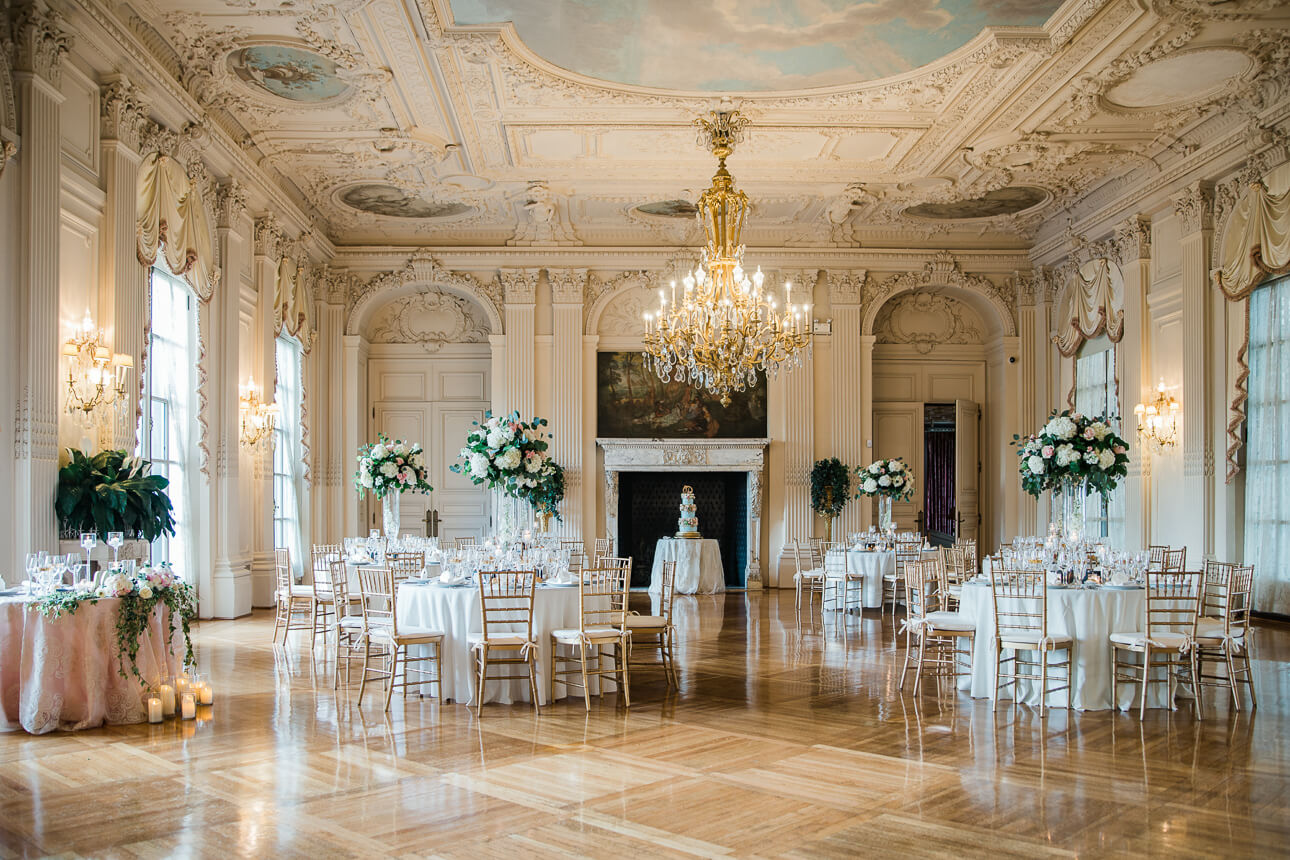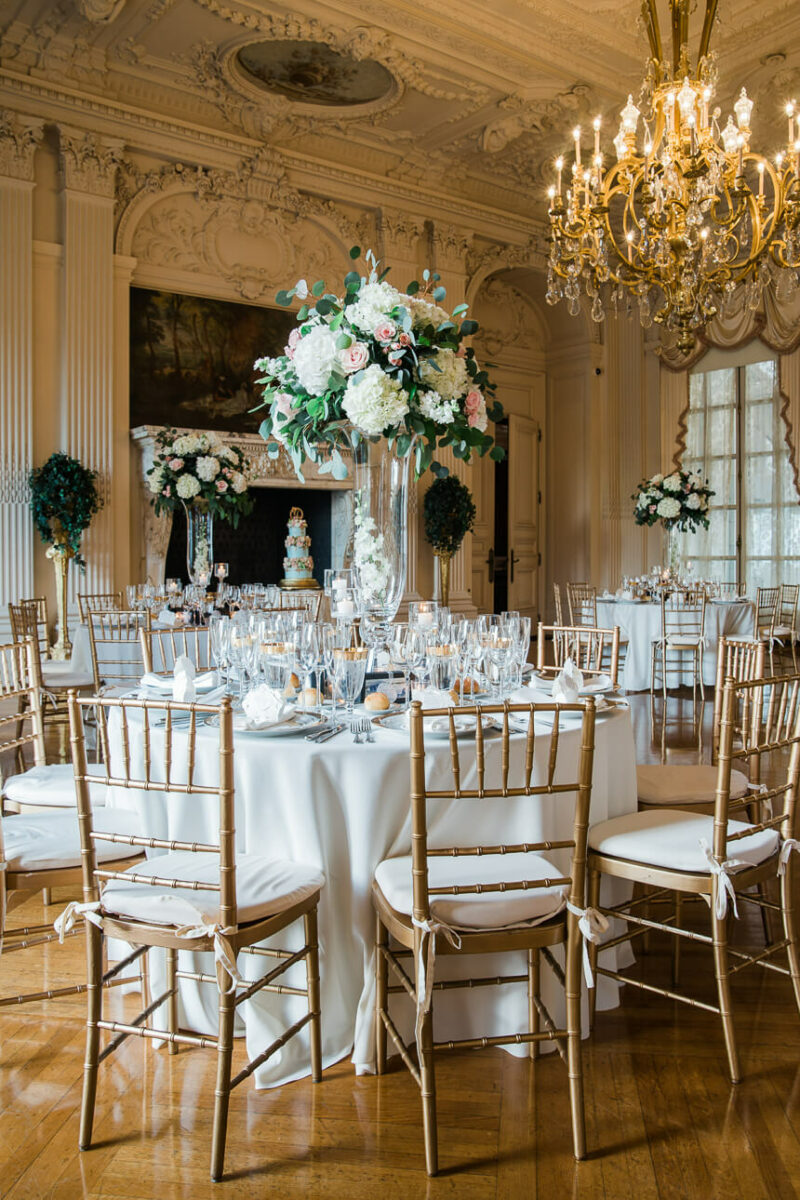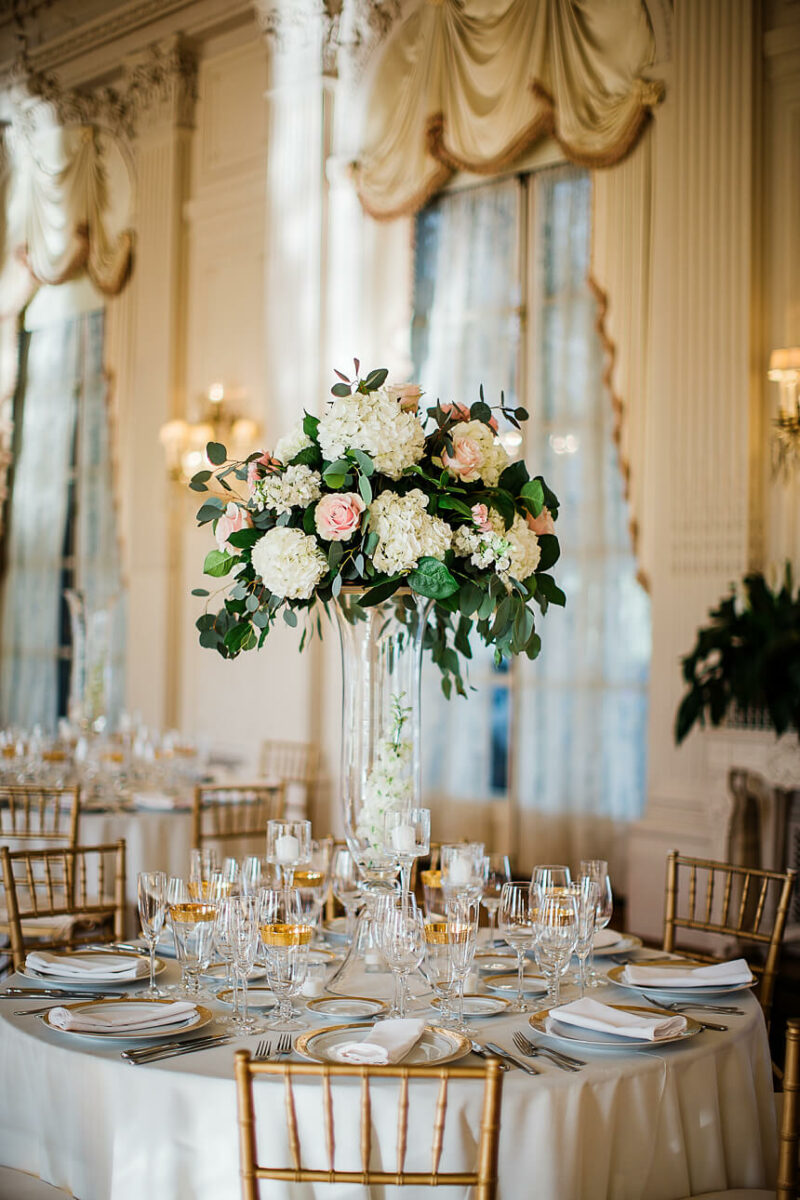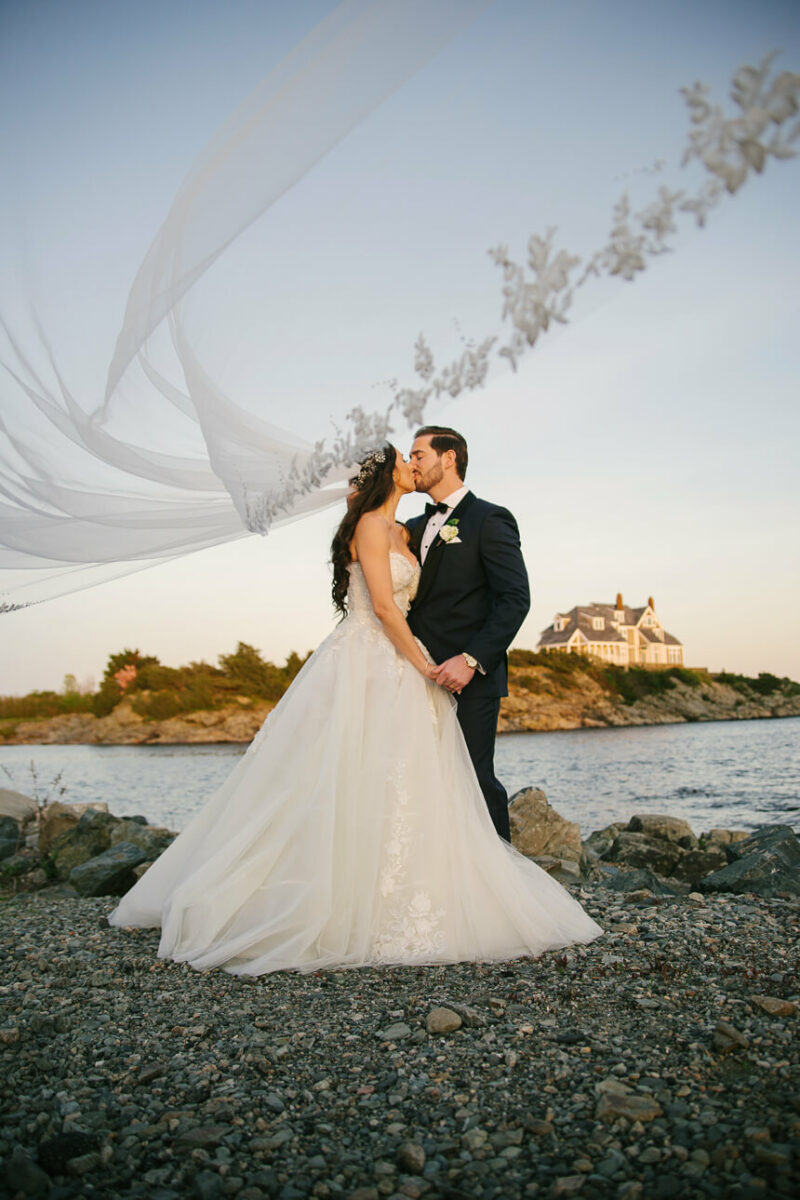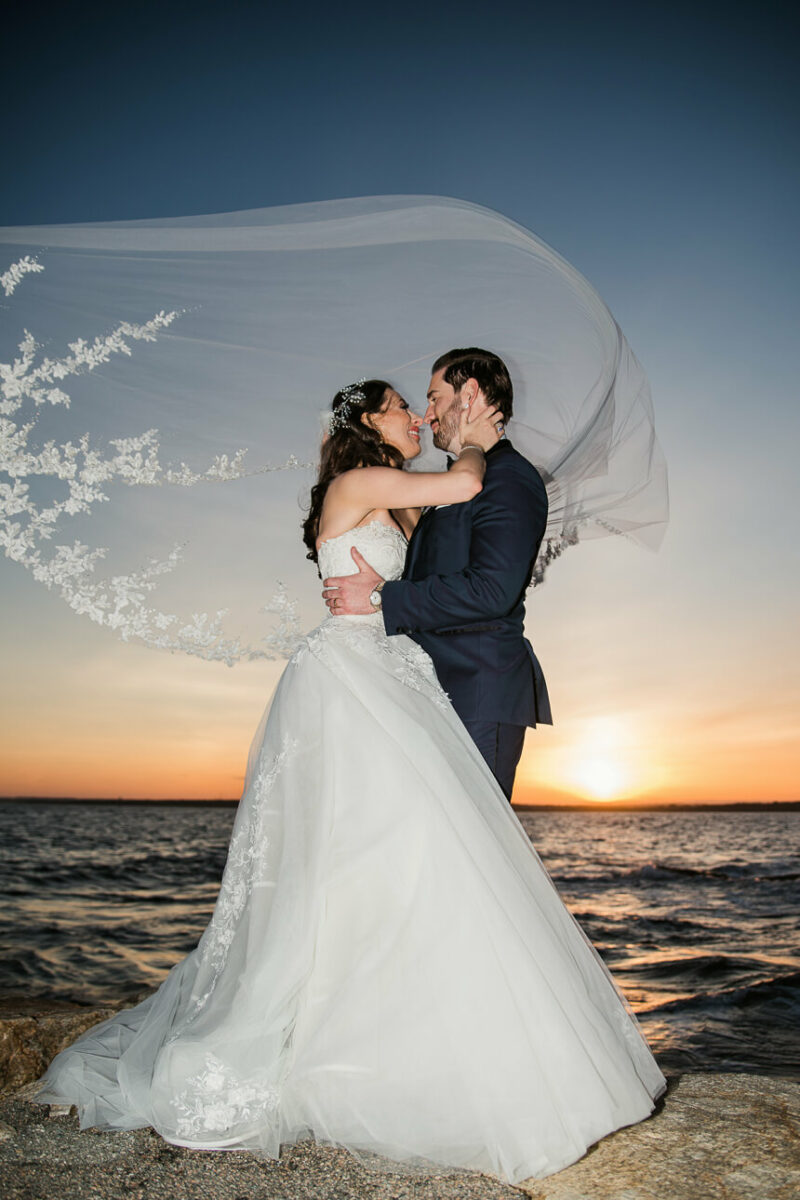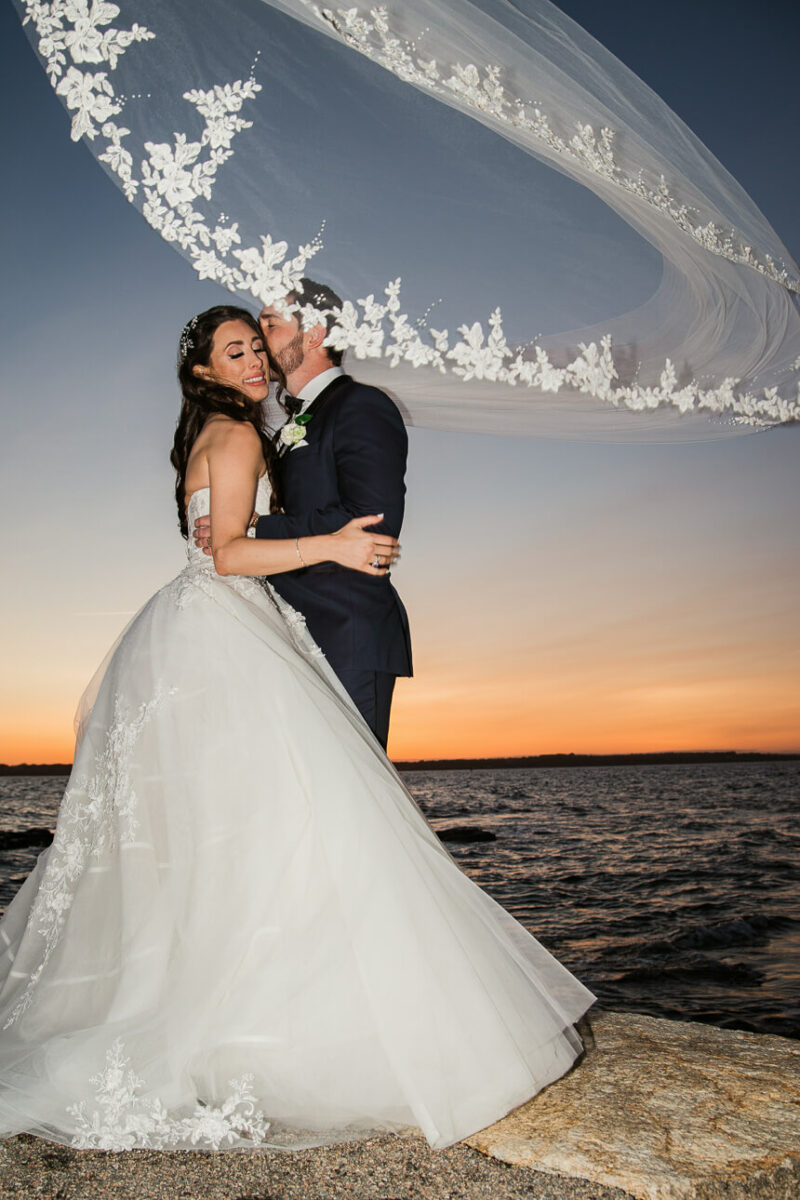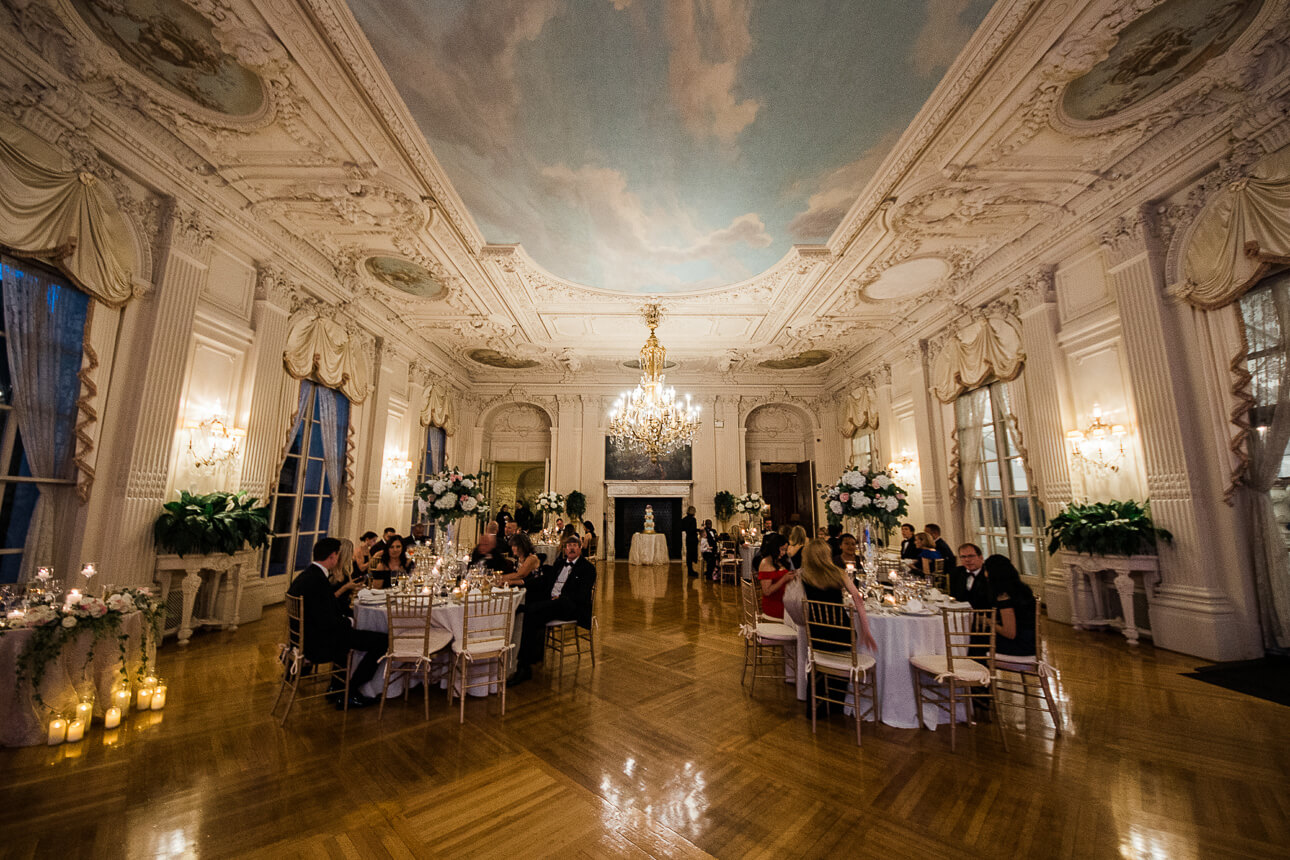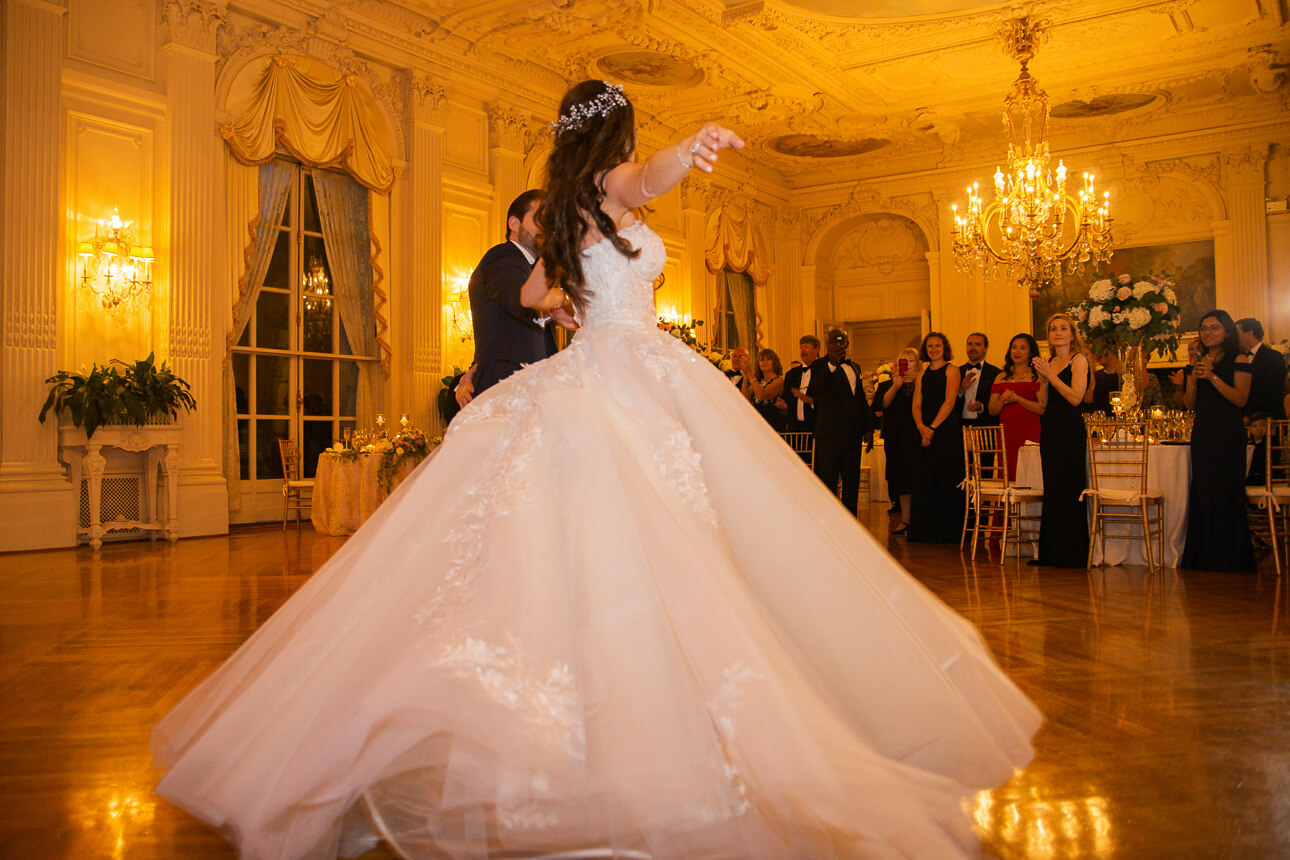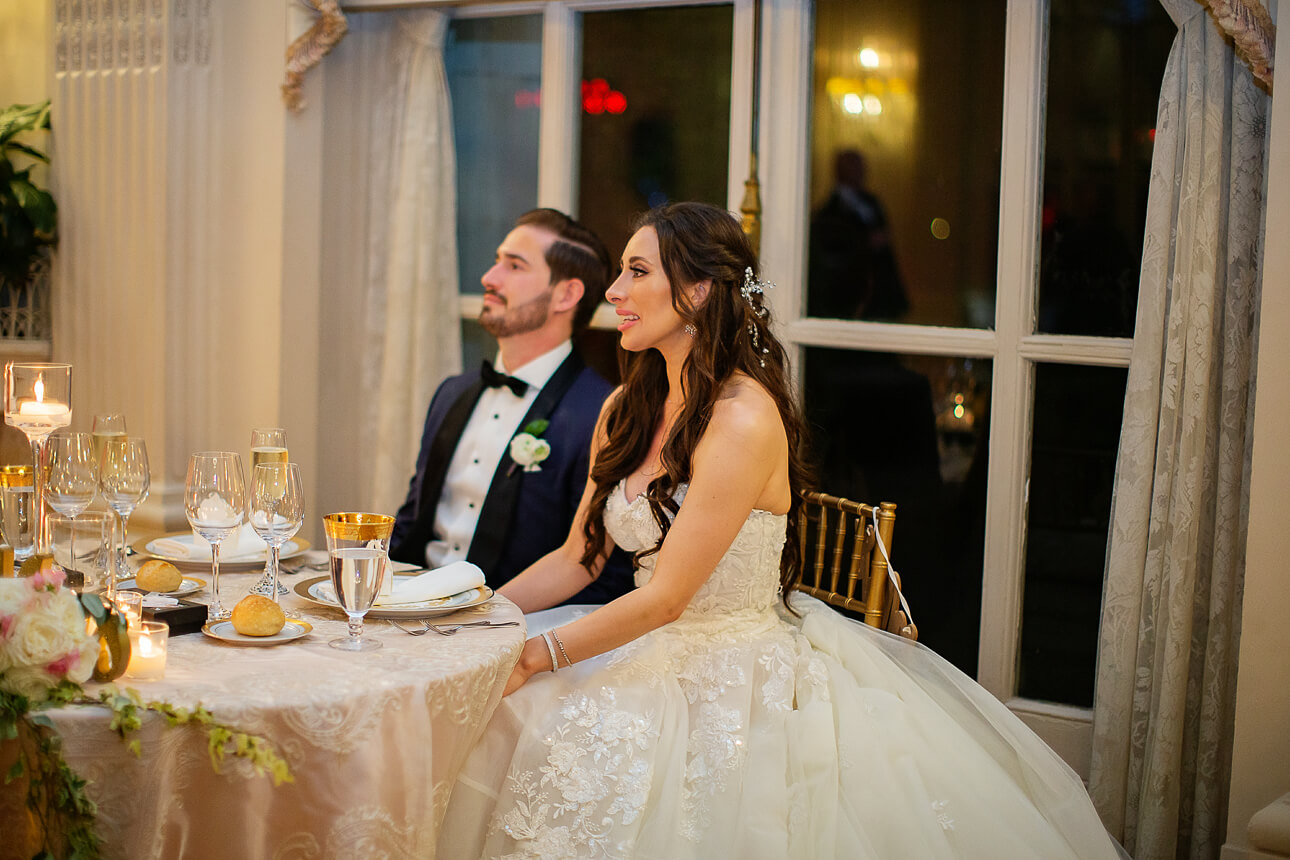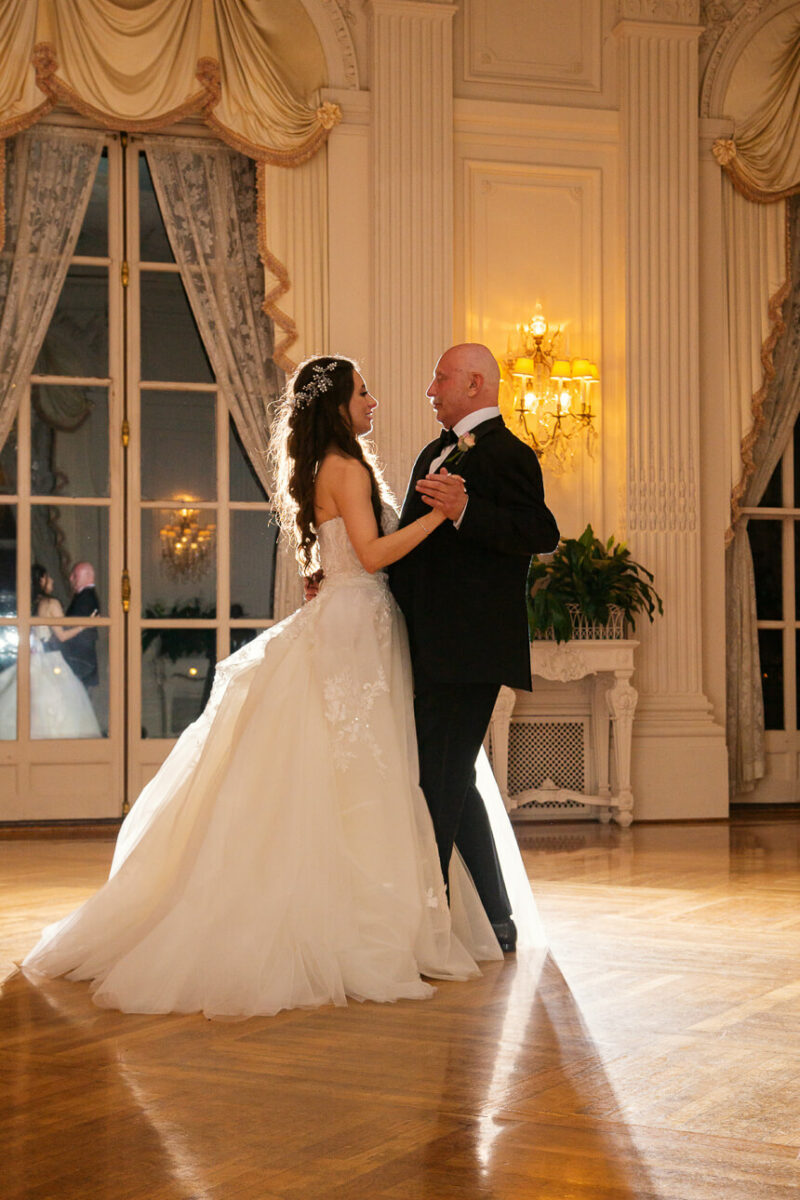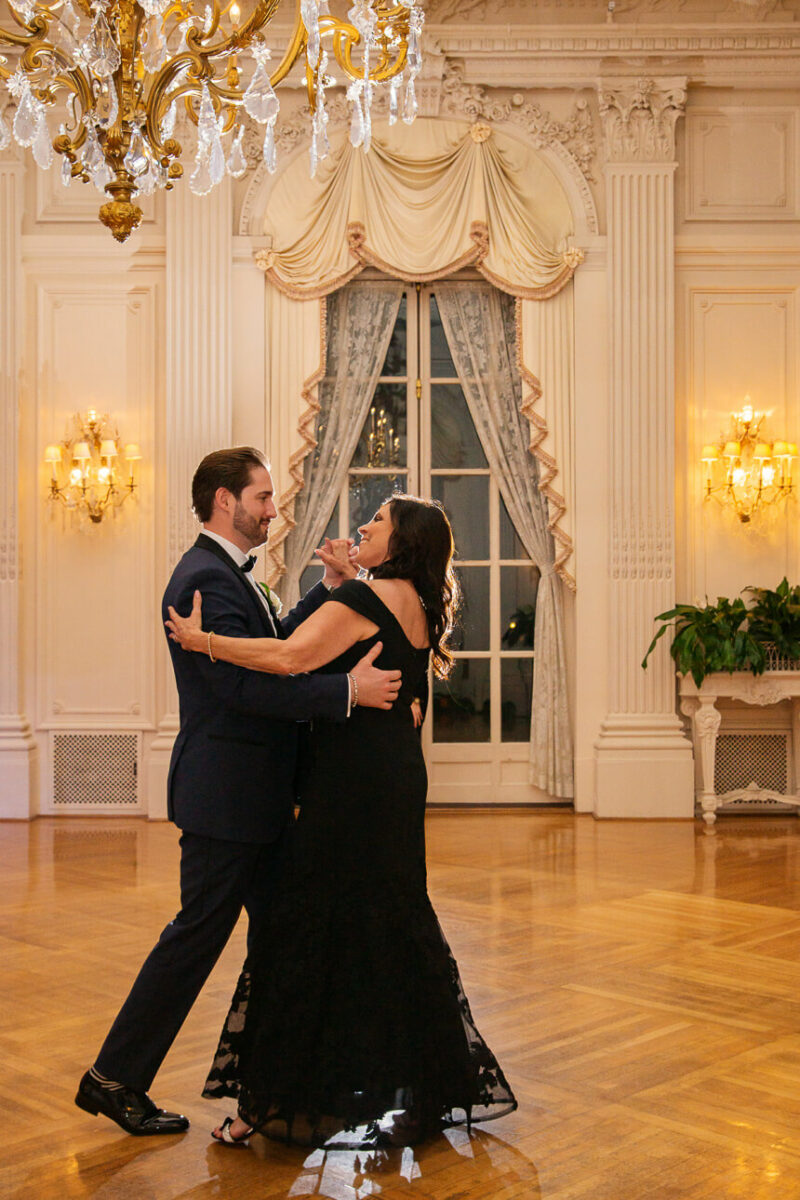 "What a pleasure it was to create Ashley & Will's fairytale wedding cake! We chatted, shared ideas, and pieced them together to make this couple's dream wedding cake.

The powder blue color of Ashley's wedding cake was made to match Newport's Rosecliff Mansion's ceiling perfectly. The custom gold detailing was added to match the style and vibe of the wedding, as well as the gold ornamental details inside of the 19th century gilded age mansion.

Since Ashley and Will only had about 50 guests attending their wedding, they were concerned about not having enough height to their cake. So, I designed a 3 tiered cake separated by flower installments to portray a grand presentation for a cake that only needed to feed a relatively small crowd."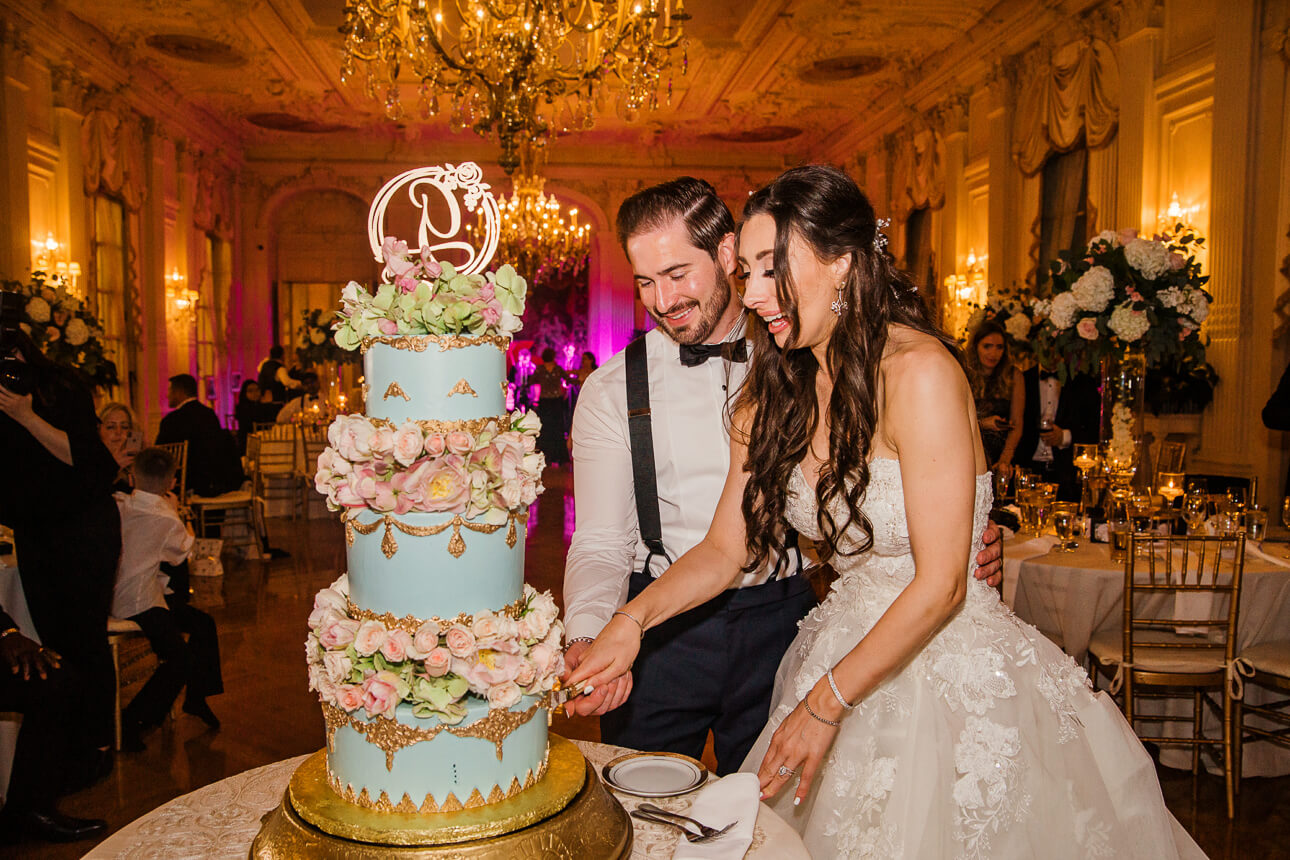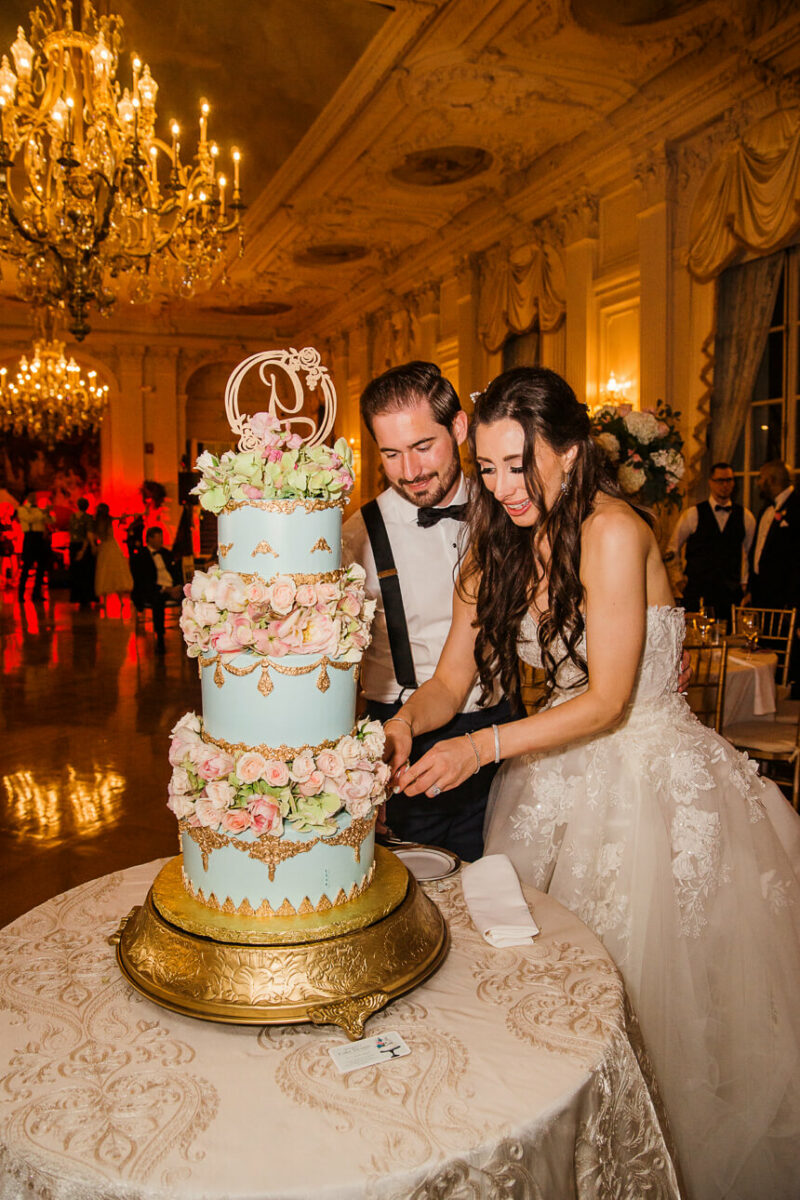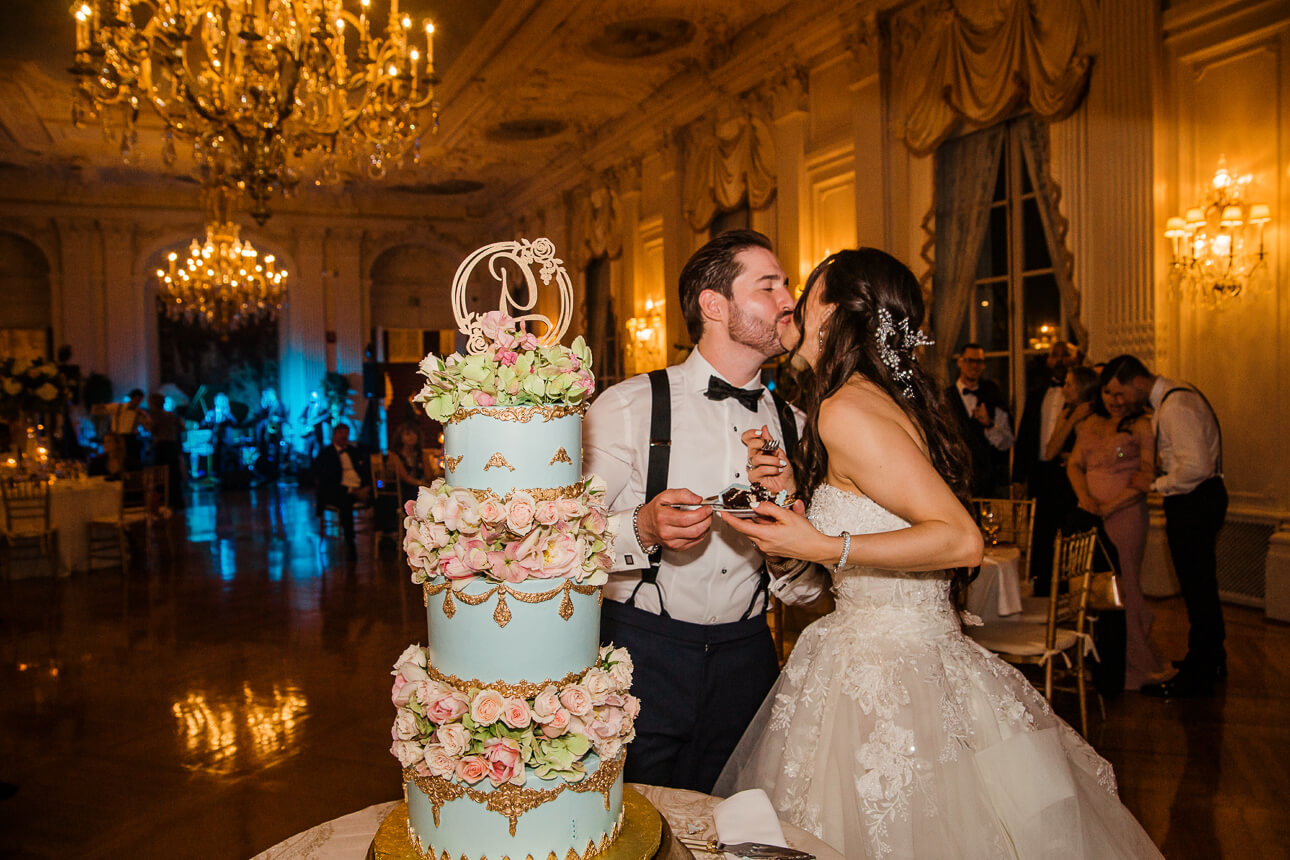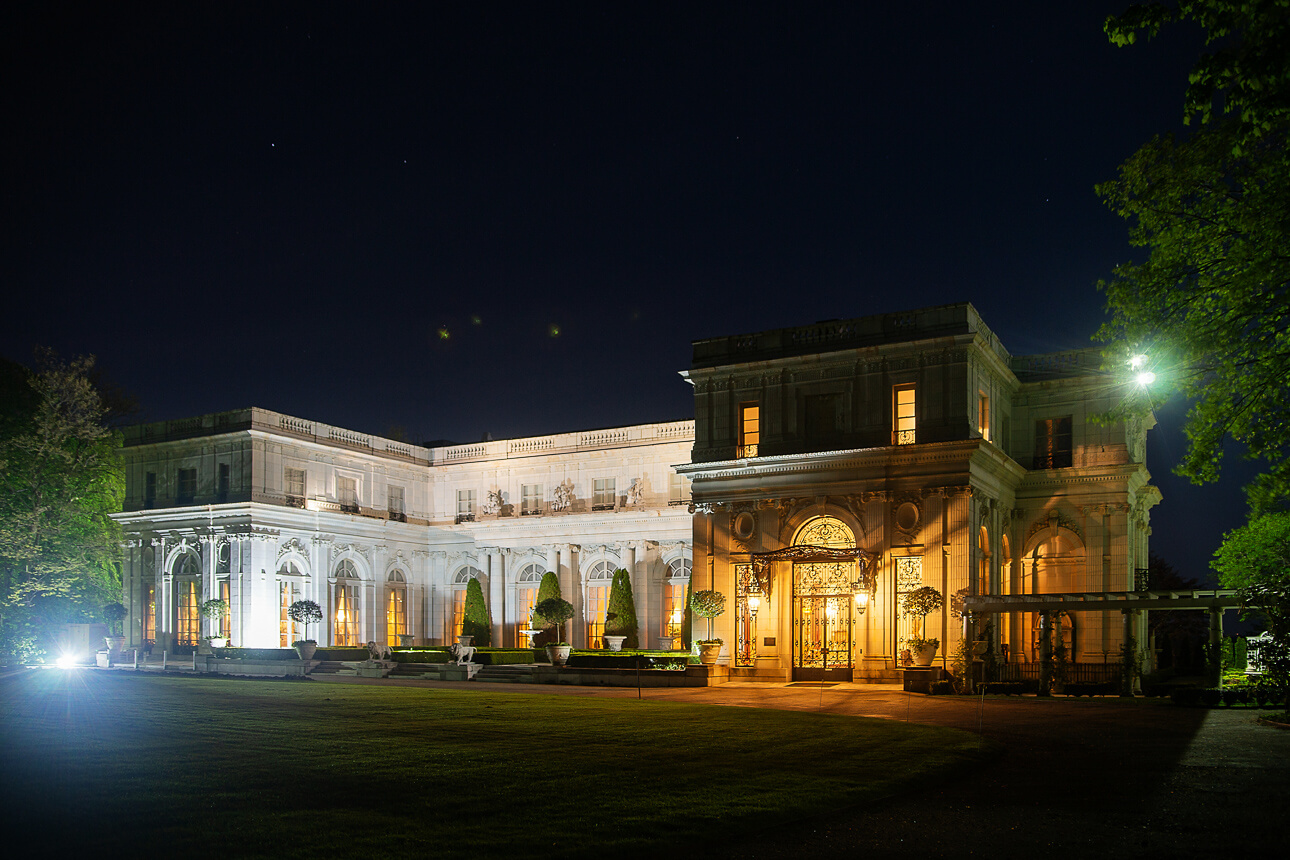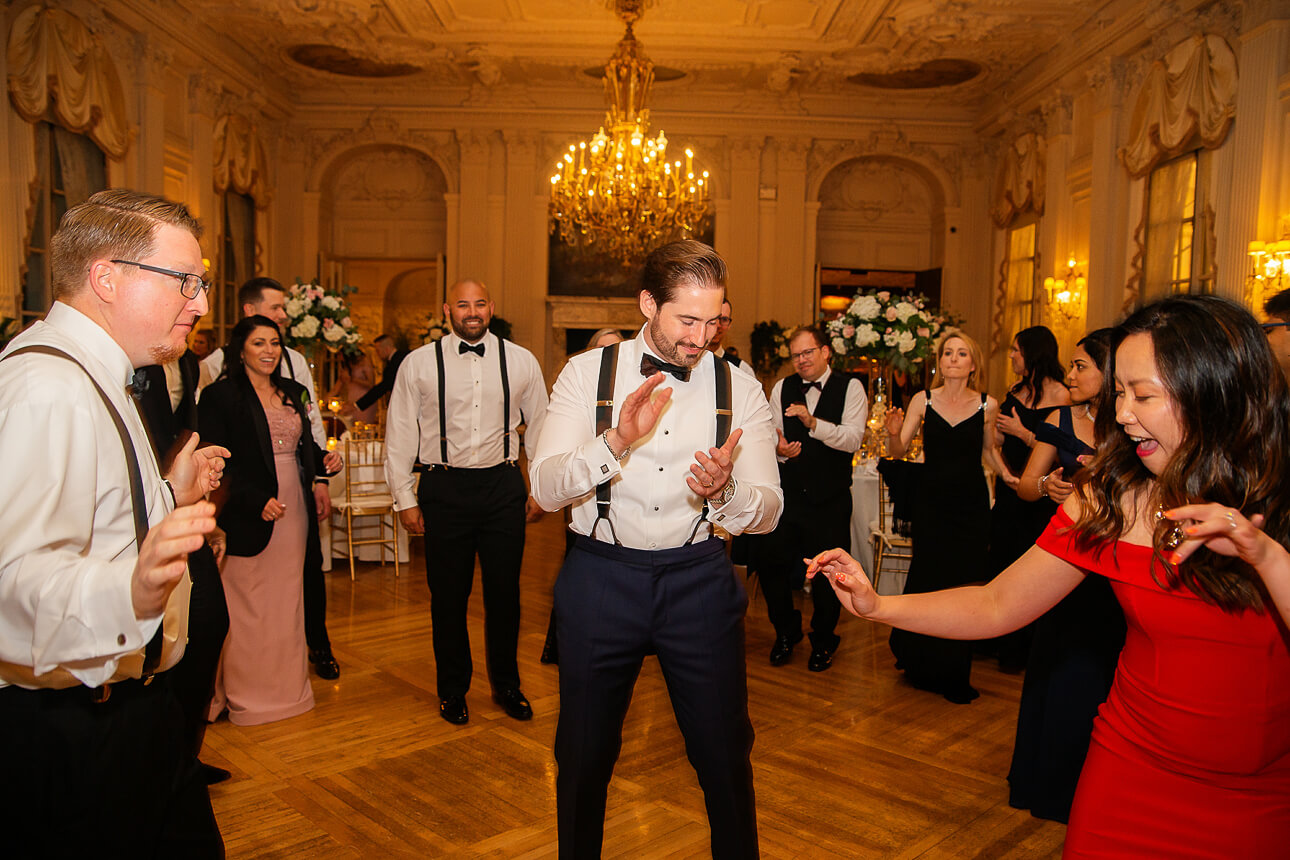 I received this awesome testimonial from Ashley: "Working with Jan has been so amazing, since the first day we ever spoke to one another. He is so easy to talk to, has such a great eye for detail, has such great suggestions for shooting, and his passion for shooting is so obvious. In addition to our wedding day, my husband and I had a shoot with Jan the day before our wedding as well. It was rainy and gloomy that day, but even our outdoor photos still came out AMAZING. It literally looks like we came out of a fashion magazine; you would never know how terrible the weather was. Jan can capture the beauty on camera in any situation. Our wedding photos are absolutely unbelievable. I have never felt more glamorous in my life than how Jan made me feel that day, and it reflects SO well in our wedding photos. I look at them every day and I can't believe they're real. It's so much more than just his eye for shooting… his editing skills are top notch, so far above and beyond other photographers I've seen. He can seamlessly remove and correct anything that detracts from the overall beauty of a photo, whether that's an object in the background or a scar or line somewhere on your body. He pays attention to so many little details that I've seen other photographers ignore, like symmetry and color palette. On the day of our wedding, he made all of us feel so comfortable, continually made us laugh, and made us all feel so attractive and confident while shooting with him. He gave us so much good direction when we didn't know how to stand or what to do. And all of our photos came out looking like they were from a magazine – not just your basic boring posed wedding photos. He made me feel like a supermodel. Even working with him to book travel and all the mundane details for my wedding was so easy because he is so nice and fun to talk to. And when he delivered our photos, they were even organized chronologically and by category (ie. ladies getting ready, ceremony, reception, portraits, etc), which made them so easy to review and choose from! I really hope that we get the chance to shoot with him again in the future! He captured our wedding so beautifully and went so far above and beyond what I ever expected from a wedding photographer, and was truly worth every penny. He is THE BEST!!!!!"
Captured with Sony A99

Freire Wedding Photo – Destination Wedding Photographer
Facebook | Instagram | Pinterest | Twitter
inquire@freireweddingphoto.com
+1 (917) 633.4060